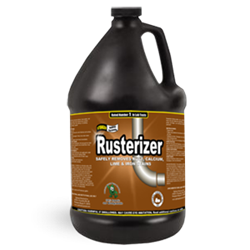 Rusterizer though is different...Unlike most of the corrosion sprays...it is made with organic ingredients.
Seattle, WA (PRWEB) October 31, 2013
Rust is an all-year problem that could damage almost anything. Because of that, My Cleaning Products said that everyone must always be ready to combat it. And according to one organic rust remover, it is what everyone needs for the process. It even announced that it continues to offer its samples to prove that it is truly the right solution for rust treatment.
Moisture is often the cause of rust at home and anywhere else. Generally, that's because there are sources of it everywhere and they're not always detected and prevented. Hence, rust formation is inevitable in various occasions.
However, that doesn't mean that in those unavoidable circumstances, the rusted things couldn't be salvaged anymore from complete ruin, MCP said. If rust removal is implemented early, it stated that the piece could still be saved.
Nonetheless, My Cleaning Products stated that could only work if the process is effective. Else, one would just waste his time, effort and money, it said.
Generally, there are several rust treatment products one could purchase for the treatment, said MCP. The problem though, it cited, is that while there a number of them that are effective, most of those sprays contain harsh chemical ingredients. And so, evacuation is needed whenever they are used in the rust removal process, Rusterizer though is different, the company said. Unlike most of the corrosion sprays, it pointed out that it is made with organic ingredients. Because of that, it said that it is safe for health and the environment. Hence, no evacuation needed whenever it is used, it stated.
When it comes to its effectiveness, MCP also asserted that Rusterzer is effective. It elaborated that it has been proven effective by even rust removal companies. And to assure everybody that it is truly efficient, it shared that the company continues to offer samples of it.
For anyone who has rust problems and wants to see for himself how well Rusterizer works, it detailed that they could get a Rusterizer Complimentary Sample to test at MyCleaningProducts.com.