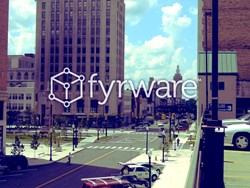 We believe there is no better location in the United States to build a business than Youngstown, Ohio.
Youngstown, OH (PRWEB) August 21, 2013
Youngstown, Ohio is making a comeback with Business to Business Software as one of its pillars for economic growth. Today, Youngstown's premiere software group, Fyrware, LLC, is announcing their new "Blazing the Trail for Technology" campaign. The goal of this campaign is to assist Youngstown's economic renaissance as it continues to flourish.
Fyrware, LLC is a software development firm in the Midwest, focused on researching innovative ways to streamline talent management practices and productivity across the globe, and they believe there is no better location in the United States to build a business than Youngstown, Ohio. Dylan Marsh, Founder and Principal Engineer of Fyrware, maintains "We chose Youngstown to be our home for a variety of different reasons. First, historically the people of Youngstown have always had great work ethic and we look to hire local talent. Second, we see efforts from the Youngstown Business Incubator (YBI), Youngstown State University and the Youngstown city officials all preaching a synonymous message for economic growth that will eventually become the premiere technology hub in the Midwest. Youngstown is between two of the largest cities in the world, Chicago and New York and less than hour from both Cleveland and Pittsburgh. We believe the residents of Youngstown have a distinct entrepreneurial spirit and hope that will inspire local communities to make Youngstown what it once was during the thriving steel era."
Fyrware has found a way to connect local talent and world class technology while concurrently spreading the word that the former Rust Belt has resurrected itself into a globally recognized Tech Belt. Inc. Magazine and a plethora of other publications have recognized Youngstown's efforts in technology. Paul Cusson, chairman and founder of Inc. 5000 company Northern States Metals, stated "When my wife and I invested in Youngstown nearly 30 years ago, we hadn't realized that we were investing in a city that would eventually leapfrog the rust and be a leader in America's future. But after seeing firsthand the character of the people of this city, it shouldn't have surprised us at all."
World Class, cross platformed, web based software reaches everyone and every device in the world. It's lightweight, low overhead and doesn't conflict with internal corporate infrastructure. Strategic money and technology decisions are critical to all businesses today, yet, some believe in the stereotype that coastlines and overseas are the only place to acquire reputable B2B software. Both Fyrware and Youngstown are proclaiming the Tech Belt as THE place to build and acquire world class software and infrastructure. The "Blazing the Trail for Technology" campaign is Fyrware's newest effort in assisting Youngstown, Ohio as it transforms into the technology hub of the Midwest, while also notifying the community's entrepreneurs about economical and global advantages that exist right in their own backyard.