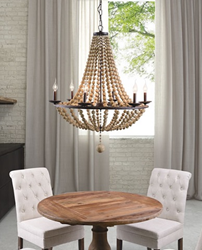 Simply replacing the iconic crystals on a chandelier with some other material is a great way to dramatically alter the appearance of the fixture.
(PRWEB) September 18, 2014
HomeThangs.com – the Online Home Improvement Store has made their goal to deliver the right product to the consumer. With that in mind, shopping and home design tips, as well as special product selections are being introduced.
HomeThangs.com has introduced a guide to rustic, industrial-inspired chandeliers, a slightly more rugged take on the traditional chandelier that's ideal for a more contemporary space. Combining down-to-earth materials with a whimsical design, these unique chandeliers are anything but the same old antique.
Industrial inspired chandeliers replace the conventional polished metal and shimmering crystals with simpler, earthier materials, like rope, twine, wood, or simple unfinished metal, but they retain the same silhouettes of classic, iconic crystal chandeliers. Together, that makes for a look that's much more organic but just as elegant, merging a subtle sense of sophistication with a look that's casual enough for a contemporary home. These elements can be incorporated into the design in a variety of ways, and HomeThangs.com's new article takes a look at a few of the different possibilities, as well as the vastly different looks they produce.
Lots of simple, unfinished metal produces a very industrial look, while intricate twine cage-style lights mimic antique whicker for a slightly more old fashioned, shabby chic style. HomeThangs' new guide also takes a look at exposed bulb lighting fixtures, particularly ones with an industrial bent, and how this very modern trend can be used to produce a unique turn of the century factory style that's a perfect pair for an industrial style loft or vintage farmhouse.
To read the full article about industrial inspired chandeliers, click here.
HomeThangs.com is not only a home improvement superstore, it also provides expert design tips and a comprehensive shopping guide, taking the ideas from professional interior designers, and offering tips to the consumers on how to pick the products to best suit their needs.