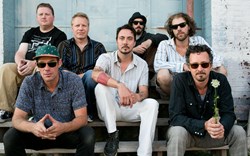 "One of the longest running and most successful local bands in recent history." - Dispatch Magazine
(PRWEB) August 09, 2013
Rustic Overtones - Album Release Show - Let's Start a Cult 2 with Sister Sparrow & The Dirty Birds (EP Release).
Friday, December 6th, 2013
The Sinclair
52 Church Street
Cambridge, MA 02138
8PM (doors) - 8:30 PM (show)
Band Website: http://www.therusticovertones.com
Venue Website: http://www.sinclaircambridge.com
Ticket Price: $15/18+
Tickets: http://www.ticketmaster.com/event/01004AFFE694D14B
"One of the longest running and most successful local bands in recent history." - Dispatch Magazine
Rustic Overtones announces the release of "Let's Start a Cult 2," the follow-up album to their 2012's "Let's Start a Cult." Tickets go on sale today for the album release show on Friday, December 6th, at the Sinclair in Boston.
Rustic Overtones is a 7-piece Portland, ME based funk/rock band known most predominantly for their raw performance power. Ray Lamontagne once said in a radio interview, "I love Rustic Overtones. I don't know if I've ever heard a band as tight as they are." Widely considered to be "one of the most impressive live acts to ever come out of Maine" (Dispatch Magazine), the band's collaborative efforts include work with the likes of David Bowie/Tony Visconti, Imogene Heap, Funk Master Flex, and Eric Krasno, and Rustic member Ryan Zoidis also plays with the bands Lettuce and Soulive. Recent awards include 2013 New England Music Award Best Live Act/New England, 2012 New England Music Award Best Band/Maine, 2012 Portland Phoenix Best Male Vocal, 2010 Portland Phoenix Album of the Year, 2010 Portland Phoenix Best Live Act, 2010 Portland Phoenix Best Male Vocal, 2010 Portland Phoenix Album of the Decade, and 2009 Portland Phoenix Best Live Act.
The Overtones work feverishly and with focus, creating music that is motivated by nothing but a love for creation, expression and each other, rightfully accepting their title as best live act in New England, 2013. "Dave Gutter is an absolute monster of a front man…Rustic Overtones is a must see live act," touts the Hartford Courant. The Bangor Daily News says that "the stylistic diversity of the band is their trademark and biggest strength…Rustic Overtones are anything but typical." Maine Magazine points out that "each member has astounding natural talent that, when ignited by the band's chemistry, creates a coveted 'tight' sound."
Dave Gutter on the band's last album and the soon-to-be-released follow-up: "Being in a band is pretty much like being part of a cult. You're constantly going around trying to recruit new followers and get people into what you're into. At shows they sing the lyrics back to you while you're performing on stage. That's a huge responsibility. Once words are spoken, they impact people, so I try to be conscious about saying something that is going to somehow move people when they learn the lyrics or when they learn the message behind something."
For more information, images, or to arrange for an interview with Rustic Overtones, please contact Melissa Zeigler at Powderfinger Promotions: melissa(at)powderfingerpromo(dot)com.
Powderfinger Promotions–Independent Radio Promotion and Publicity. Since being founded in October 1994, Powderfinger has come to be regarded as a top indie radio promotion and publicity firm with ties across North America.