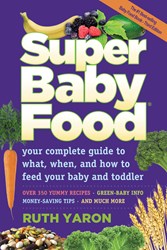 'Ruth Yaron has done it again! The original Super Baby Food was a monumental breakthrough; this major update is a treasure.' — Dr. Alan Greene / DrGreene.com
(PRWEB) October 17, 2013
After author Ruth Yaron's twin boys were born premature and very sick, she knew the most important thing she could do for them was to feed them the healthiest diet possible. Unhappy with the information that was available to her, Ruth decided to do her own exhaustive research on nutrition and health food. Although she was a whiz at programming satellites for NASA, Ruth was an inexperienced cook. She utilized her skills to diligently record her research of mostly organic, home-cooked fruits, vegetables, whole grains and legumes, as well as the best storing and freezing methods. The result was a remarkably easy and complete system of baby food preparation: "Super Baby Food."
Today, Ruth's book, "Super Baby Food," is affectionately referred to as the baby food bible by over half a million parents worldwide because it literally contains everything you will ever need to know about feeding a baby and toddler. For the past few years, parents who have heard about the book, as well as pediatricians and nutritionists, have been eagerly waiting for an updated and revised edition. And now Ruth has delivered. The new edition is filled with the same sound guidance the book has always had, plus the latest advice from other experts, including the USDA MyPlate and American Academy of Pediatricians recommendations. The book features hundreds of new recipes, new resources, and ways to connect with rapidly growing Super Baby Food communities online, all in an easy-to-navigate format that new parents have been craving.
Parents around the world are looking for nutritious, safe, wholesome (and inexpensive) foods that Ruth teaches how to prepare, store, and serve to their little ones. "Super Baby Food" is currently being translated into Chinese and Russian for publication in those countries later this year.
"Ruth Yaron has done it again! The original "Super Baby Food" was a monumental breakthrough; this major update is a treasure," says author and pediatrician, Dr. Alan Greene. "Yaron has made it simple for parents to give their children food they can feel great about: easy, inexpensive, safe, tasty, and fabulous for their kids." Martha Stewart recently featured Super Baby Food (and Yaron) on her TV show. "Super Baby Food," said Ms. Stewart, "is a fantastic guide for introducing your baby to delicious and wholesome homemade foods."
The new book can be purchased at all online retail outlets or your local bookstore. For more information visit Ruth's web site or follow her on Twitter (@Super_Baby_Food) and Facebook.