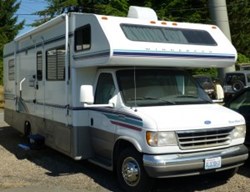 Buyers and sellers are trying to get a steal of a deal, even if it means giving others the cold end of the deal. The bigger the object you're trying to buy, the higher the price, the more you need to be aware of the possibility of fraud.
(PRWEB) August 21, 2013
There are many online ads for RVs and motorhomes, often at good prices too. Consumers must be wary of who they trust online, according to a recent blog post from Kirkland RV, a local RV sales company in Everett, WA. The post cites a number of ways consumers can spot fraudulent ads on websites like Craigslist. The article says that if it is too good to be true, it probably is. The tips offered are practical for all online shopping, but are especially important for used RV shoppers.
The first tip mentioned is one of simple observance. Illegitimate ads often contain extremely low prices, spelling errors, or sob stories meant to manipulate the consumer into a fast deal. Kirkland RV suggests looking at the spelling and writing style, because many fraudulent ads come from outside the U.S. where scammers are not fluent English writers. The post also says that buyers should never allow sob stories to convince them to buy, or to accommodate to meeting places or payment terms that could be hazardous.
A second tip is learning about the RV before contacting the seller. Research is a fail-safe for detecting phony ads, as many fake listings contain incorrect information. It is important to examine an RV before buying, inside and out, so as to be sure a seller is not covering up for missing features or broken parts. The blog post says, "The danger of buying a used RV is that RVs are used very little compared to other vehicles. This may seem good, but if an RV has been parked somewhere for a long time and not driven, it can begin to rust underneath."
Kirkland RV recommends shopping around for RVs at a variety of locations before buying. There is safety in buying from a reputable source. Their branch in Everett is acclaimed for its high-quality customer service and satisfaction. To learn more, visit their website: http://www.kirklandrvsales.com/avoiding-online-scams-buying-a-used-rv/.