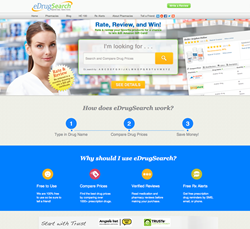 eDrugSearch.com's Rx alerts, sms and email reminders are 100% free of cost. There are no rate plans, no trials and no hidden fees.
San Antonio, TX (PRWEB) November 18, 2013
Recently, a lot of pill reminders have been developed to aid those in need, but none so far have offered people a free Rx alert. A new medication reminder service has surfaced, and the most surprising part is there is "no charge" for the pill medication reminder service.
The website eDrugSearch.com has come forward as a major contender in the Rx reminder market. Offering a service that most charge for, they have chosen the bold move of offering their new pill reminder for free. eDrugSearch.com has been featured on such things as Angie's List, Health 2.0, the Business Journal and the Wall Street Journal. As an established company, their move to release a free service could be a game changer for the pill reminder market.
The way the service works is that, once a time is set on a person's cellphone, they will receive a text message at the predetermined time, alerting the user that it is time to take their pill. An sms pill reminder was chosen so that the alerts could be sent to anywhere a cellphone is carried by the user. Unlike services that only operate on a web page, this sms pill reminder can go wherever a cellphone can. The service is also able to be used as an alarm clock function, making it a highly versatile service that can serve more than one function.
The need for a pill medication reminder is something many can relate to. Both patients and caregivers struggle with administering medications at the correct time. Pill boxes, sticky notes, desk calendars and many other various methods have been employed to help people remember the vital task of taking or administering medications at the correct time. However, none have been as flexible and portable as an electronic pill medication reminder. Being able to personalize it for one's needs, as well as take it anywhere a cellphone goes, allows this new service to assist countless people in making sure they never have to worry about forgetting when to take a medication.
As healthcare costs grow, many people's pocketbooks and bank accounts buckle under the pressure of ever-increasing expenses. Going to the doctor, having them write a prescription, driving to the pharmacy and then buying those prescriptions can really add up and put a strain on anyone's wallet.
After all that, then also being expected to pay for a service that ensures a patient or caregiver administers that expensive prescription is often too much to ask of someone. So creating a Rx alerts service that doesn't cost the consumer is a relief to people who like to save money and who need a easy-to-use reminder to take their medications.
About eDrugSearch.com
Based in San Antonio, eDrugSearch.com is a free shopping comparison engine for U.S. consumers seeking safe access to affordable medications from a licensed Canadian pharmacy and other international pharmacies. eDrugSearch.com president and founder Cary Byrd is an impassioned advocate for reform of U.S. prescription-drug law. For more information, visit the company's Web site at eDrugSearch.com or its blog at edrugsearch.com/edsblog.