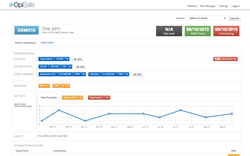 "We created OpiSafe to give providers and patients a comprehensive solution to help them prescribe and use opioids safely and treat pain more effectively while avoiding bad outcomes."
Denver, Colo. (PRWEB) September 17, 2015
RxAssurance announced today the U.S. release of its comprehensive pain medication management web and mobile platform, OpiSafe. The product was created to address the growing epidemic of prescribed opioid abuse and misuse.
According to the Centers for Disease Control, approximately 100 people die each day from drug overdose and interaction. Fifty percent of those deaths are opioid related.
"Care providers currently face many challenges in safely managing patients who are on prescribed opioids. OpiSafe gives them the tools to more effectively perform baseline assessments, do risk stratification, and monitor their patients' pain, function and risk after they return home," said Rob Valuck, PhD, RPh, Chief Strategy Officer at RxAssurance. "OpiSafe helps create guideline adherent treatment protocols to maximize therapeutic benefit and reduce risk of poor outcomes, opioid abuse or addiction."
In Colorado, care providers using OpiSafe can automatically check the state's PDMP, a tool used to identify potential instances of doctor shopping or opioid abuse. OpiSafe's automatic PDMP querying saves doctors the several minutes it would take to manually check the PDMP at each visit. As OpiSafe expands to other states, physicians will be able to automatically check their state's PDMPs as well.
OpiSafe engages patients through smartphone and web-based platforms, generating patient feedback on an on-going basis. It also provides clinically validated assessments of pain, function and risk, combined with medication diary questions to create easily-quantifiable patient summaries. OpiSafe also generates randomized urine drug screenings, delivered to patients, who then go to a local lab for their testing. And if physician-specified patient events take place, care providers can enable alerts that will notify them about the event.
"We created OpiSafe to give providers and patients a comprehensive solution to help them prescribe and use opioids safely and treat pain more effectively while avoiding bad outcomes," Valuck said.
About RxAssurance:
RxAssurance believes that technology can make a long lasting, positive impact on the wellbeing of patients. Knowing what happens when a patient leaves the care of their provider is a critical missing piece of the healthcare puzzle. Our solutions are designed to address this critical gap, bringing behavioral economics, the psychology of online user interaction and global availability together to keep patients working their way towards healthy habits that ensure safe and effective medication therapy outcomes. For more information, visit http://www.rxassurance.com.