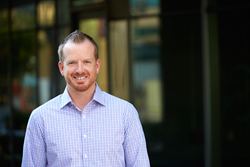 The concept of my Social Media Minute gives the audience permission to get their phones out and start sharing. It is simple and very effective.
Santa Monica, California (PRWEB) June 16, 2016
The second annual IDEAS Los Angeles Conference, a two-day event focusing on the future of digital technology in media, entertainment, lifestyle and health, recruit John Bates, Jessica Naziri and Ryan Foland as powerful emcees to spark social sharing during the event. In partictular the inclusion of Ryan Foland's "Social Media Minute," brings a new activity to the stage that has substantially increased the Social Media impact and engagement of IDEAS attendees.
IDEAS LA (Israel, Digital, Entrepreneurs, Arts, and Science) is hosted by American Friends of Tel Aviv University, a national nonprofit organization dedicated to supporting Israel's largest institution of higher learning. Hundreds of global industry leaders, including a select group of speakers, panelists, and moderators, gathered yesterday and again today at IDEAS LA to discuss the world's most exciting innovations and how rapidly knowledge, products and business are emerging out of each of these categories.
"We are very excited to have such great emcees this year," said David Dorfman, Executive Director of IDEAS Los Angeles. "Ryan is bringing a new energy with a focus on social sharing. He is known for his ability to manage large crowds, edify guests, and most importantly, get the audience engaged. Compared to last year, we have seen our Social Media sharing during the event increase at least ten fold. I believe a big part of the increase is due to Ryan's 'Social Media Minute,' where he literally stops the show, and encourages real time sharing in sixty second bursts. It seems a bit unconventional, but it actually works."
Partnering with dozens of corporations, private businesses, community organizations, institutes of higher learning and media outlets to present the annual global conference, IDEAS LA brings together three of the most successful entrepreneurial ecosystems in the world – Los Angeles, Silicon Valley and Tel Aviv – including entrepreneurs, policy makers, investors and influencers, in addition to studio heads, movie and television producers, healthcare providers, doctors, university professors and more.
Ryan Foland is the Senior Administrator of Social Media and Marketing for the Office of the Vice Provost of Teaching and Learning, at the University of California, Irvine. He helps over 25 divisions on campus better utilize Social Media to engage undergraduate students with resources that are offered at UCI. Known for his creative communicating theories, Ryan has a passion and track record for bridging offline and online experiences. IDEAS Los Angeles is excited about the results of this year's emcees taking initative to increase the awareness social sharing during the talks and panels.
"In my experience, I have found that some of the most effective Social Media strategies originate offline," said Foland. "I love working with large conferences to help them increase their digital footprint in real time during the show. Events like IDEAS LA, with such great content and speakers, generates much larger reach and impact when the attendees share their live experiences on various Social Media Platforms."
This year's IDEAS conference has a lot worth sharing, with talks from company heads to budding filmmakers and techies, and featuring dozens of TED Talk-style lectures, panel discussions, workshops and digital startup presentations. Attracting more than 1,200 attendees to the Broad Theater in Santa Monica, the event has almost doubled from its inaugural year. With the rise in Social Media sharing at the event this year due to efforts of increasing engagement from the hosts, the reach will extend well beyond those who are able to attend.
IDEAS Los Angeles is a project by Tel Aviv University-American Friends in partnership with dozens of corporations, private businesses, community organizations, institutes of higher learning and media outlets to create a space where global business leaders, futurists, studio heads, movie and television producers, healthcare providers, doctors, thought leaders, entrepreneurs, Tel Aviv University administrators, professors, and alumni can come together and share ideas. IDEAS wants to inspire people to think deeper and more broadly by engaging with inventors and innovators tackling some of the most exciting challenges in the world today.
American Friends of Tel Aviv University supports Israel's most influential, comprehensive, and sought-after center of higher learning, Tel Aviv University (TAU). TAU ranked #75 globally and #1 in Israel in a 2015 Reuters survey of the 100 most innovative universities. It is one of a handful of elite universities rated as the best producers of successful startups, and TAU alumni rank #9 in the world for the amount of venture capital they attract.
Ryan Foland is a master communicator. He coaches leaders worldwide on the art of simplifying spoken and written messaging for greater impact. He is the inventor of 3-1-3 Theory, a process whereby pitches begin as three sentences, condense into one sentence and then boil down to three words. Ryan writes for TechDayNews and has appeared in Inc., Entrepreneur, HuffPost, TEDx, KUCI and more. An entertaining speaker, toastmaster, and emcee, he serves as a public speaking mentor for a variety of thought leaders. Learn more at http://www.RyanFoland.com. For booking information download his Electronic Press Kit at http://www.epk.RyanFoland.com.