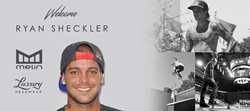 I am so amped to be part of Melin. A hat is part of my everyday wardrobe and now I have the best. Ryan Sheckler.
Oceanside, California (PRWEB) September 11, 2015
Professional Skateboarder and youth culture icon, Ryan Sheckler has entered into a partnership agreement with Melin, the luxury headwear brand out of Southern California. The agreement allows Sheckler to exclusively wear Melin constructed hats as well as design and create his own signature styles in Melin's future seasonal collections.
Sheckler has been in the limelight since he was very young. From winning X-Games Gold by age 13, to TV and movies. Ryan's iconic image is at a legendary status at a mere 26 years old.
Melin is a brand focused on elevating the headwear market by creating some of the most unique and innovative hats that have ever been created. Bridging the gap between luxury fashion, headwear and Southern California lifestyle, while blending board sport culture with different styles of hip-hop, punk & trap style music. The product itself utilizes materials such as Italian Cashmere by Loro Piana, Nappa Leather from Spain, Polished Stingray Leather, Titanium metal trims and even real 8-point diamonds mounted in their caps. The brand holds their products in the highest regard by continually introducing new innovation, materials and construction techniques.
Melin and Ryan connected through mutual friendships and the respect for each other's craft was apparent from the start. The decision to work together in a partnership capacity made clear sense. Ryan will now be wearing all the newest Melin hat styles, using all of the latest materials, yet still profiling his Red Bull branding. He will also be working closely with the Melin design team on signature styles inspired by his own influences and style preferences.
When asked about the new partnership, Ryan stated: "I am so amped to be part of Melin. A hat is part of my everyday wardrobe and now I have the best."
Melin Co-Founder and President, Brian McDonell stated: "We really couldn't be more pumped on the addition of Shecks to the family. He transcends everything we stand for as a brand. He gives back through his foundation, he inspires the collision of cultures in the way he lives; bridging art with Skateboarding and pop-culture, and by being true to himself and his fans. He is not scared to push the status quo, be a positive role model and go bigger or gnarlier than those before him. Shecks brings a really fun dynamic to our brand and company. He is a super hard worker, a really positive guy to be around and we are all very excited for the future together. We are just getting started over here."
Be on the lookout for the latest creations from Melin and Ryan Sheckler. There has never been a "ball cap" brand that has developed such unique, refined high-end quality product like this before. More details about melin and Sheckler can be seen at http://www.melinbrand.com and on their social media channels: @melinbrand Or on Ryan Sheckler's social channels: @shecks
About Melin:
Founded by two longtime friends in 2013, Melin is a Southern California lifestyle brand focused on raising the status quo through new materials, unique design and relentless innovation. Melin hats are intended to provide the young fashion conscience consumer their first premium option in headwear while keeping the edgy street and action sports look we grew up on. Melin represents a space where luxury meets the youth and cultures collide.
See More At: http://www.melinbrand.com or on Instagram, Facebook & Twitter: @melinbrand #melin