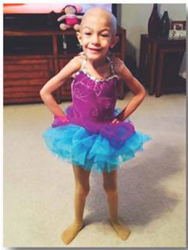 Ryleigh still has a long road to recovery, but we're going to be right there by her every step of the way.
Haslet, TX (PRWEB) May 22, 2015
Dixon Insurance Agency is no stranger to championing worthwhile causes, and the recent commitment from the Texas-based insurance company to assist a local youth in her battle against a rare and life threatening genetic disorder has drawn support from families throughout the communities of Haslet, Saginaw, and Justin.
"Helping Ryleigh in her fight against alpha-mannosidosis has taught all of us a lot about courage and hope," says Lori Dixon, the owner of Dixon Insurance Agency. "Ryleigh has been amazing throughout this entire ordeal… She is truly an inspiration, and it's been a blessing to witness her progress."
Ryleigh's disorder, alpha-mannosidosis, is an extremely rare genetic condition that affects the central nervous system. Ryleigh has already undergone chemotherapy for her condition, and her family is hopeful that the bone marrow transplant she just received will help get her on the road to wellness. "Ryleigh still has a long road to recovery, but we're going to be right there by her every step of the way," promises Dixon.
Dixon Insurance Agency is strongly committed to helping Ryleigh and her family. By using their own resources and appealing to help from a far reaching network of clients and business partners, the agency is directly contacting customers, friends, family and neighbors all across Texas in a continuing effort to raise funds and awareness. Those seeking to assist Ryleigh are encouraged to send recommendations to Dixon Insurance Agency for insurance reviews, which will garner $10 donations per quote - funded by the agency. Monetary donations can also be sent directly to Ryleigh's family via PayPal, utilizing the fundraising email account, RyleighFightsBack(at)yahoo(dot)com.
In addition to assisting Ryleigh, Dixon Insurance Agency will be exploring additional causes over the next few months, and will continue to promote them via their professional network and online over social media channels. "Building a strong community requires more than establishing successful enterprises. Assisting those in need is every bit as important as helping to create a strong local economy," says Dixon.
More information on the charities currently supported by Dixon Insurance Agency can be found on their Community Causes section of their website. More details on how Dixon Insurance is supporting Ryleigh in her ongoing battle with alpha-mannosidosis can be found here.
About Dixon Insurance
As a Personal Financial Representative in Haslet, Lori Dixon knows many local families in the area. Her knowledge and understanding of the people in this community helps provide Dixon Insurance customers with an outstanding level of service. The Agency looks forward to helping families like yours protect the things that are important - family, home, car and more. Dixon Insurance can also help their clients prepare a strategy to achieve worthwhile financial goals. To contact Dixon Insurance, call 817-439-2345; 817-769-3760; 940-489-3303; or visit http://www.dixon-insurance.net.