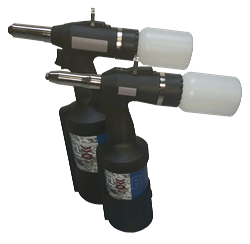 For years, industrial assembly users have demanded riveters that are ergonomic, highly durable and affordably priced
(PRWEB) May 28, 2015
After 28 years of experience in supplying North America with blind rivet tools, S-B Industries announces the arrival of the next generation in riveting, the BZ103A and BZ123A series. Designed and manufactured in Germany by VVG FASTENERS, these Honsel-VVG-Tools riveters deliver quality and performance to the most demanding assembly applications.
"For years, industrial assembly users have demanded riveters that are ergonomic, highly durable and affordably priced," said Michael Mervis, Vice President of Sales and Marketing for S-B Industries, "and now with the introduction of the BZ series tools from Germany those qualities are achieved."
The quick set riveting cycle of the BZ series tools will save time and improve production rates in high volume applications. The new BZ riveters have a high capacity mandrel collector fed by an "energy-friendly" vacuum system. Allowing the operator to regulate the air that is used for ejecting the spent mandrel, a smart-knob located at the base of the tool, features three settings to optimize efficiency--the vacuum actuates at intervals, fulltime, or turns off when the tool is idle. These German engineered riveters are built to assist the modern factory that is looking to conserve energy with high quality affordable tooling.
"S-B Industries is uniquely positioned to support OEM's with technical support, service and maintenance of the new Honsel-VVG-Tools based on experience and our network of distributors throughout North America" said Mervis.
BZ riveters will set all materials and types of rivets up to 3/16" for the BZ103A and up to ¼" for the BZ123A. All appropriate nosepieces are conveniently stored in the base of the tool. BZ riveters are manufactured to precise tolerances from cast aluminum and wrapped in high-strength resin making them very resilient to tough environments.
For more information about the BZ series riveters, please visit http://www.sbrivetguns.com
Based in St. Louis, Missouri, S-B Industries specializes in developing cost effective, innovative solutions for the tooling and component sourcing needs of clients throughout the United States and abroad. For more information about S-B Industries innovative new BZ series riveters, visit their website at http://www.sbrivetguns.com, or e-mail at sales(at)s-bgroup(dot)com, or call 1-800-543-1011.