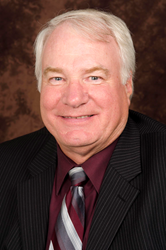 We commend you for making the commitment to excellence in community college governance. --Narcisa Polonio, Ed.D., ACCT Executive VP
Tempe, AZ (PRWEB) May 17, 2014
The Association of Community College Trustees (ACCT) has recognized Maricopa Community Colleges Governing Board President Dana Saar for his commitment to excellence in community college governance.
Mr. Saar completed the ACCT's Community College Governance Recognition Program (CCGRP) after participating in seminars and trainings about financial oversight, institutional accreditation, and governance leadership.
ACCT – the national association serving the needs of community college trustees – designed the CCGRP as a way to share knowledge essential to the practice of exemplary community college governance and provide individual trustees an opportunity to earn a certificate of participation. The CCGRP is available only to ACCT members of community college boards.
"I want to congratulate Board President Dana Saar for this recognition," said Maricopa
Community Colleges Chancellor Rufus Glasper. "It's an honor for us and our students to have a Governing Board that is so dedicated to student success."
Governing Board President Saar said, "The additional knowledge and shared experiences community college trustees gain from ACCT's Governance Recognition Program will result in an enhanced ability to meet the needs of our communities and students."
"The CCGRP is a hallmark of individual trustee learning at the national level," Narcisa Polonio, Ed.D., ACCT Executive Vice President, wrote in a letter to Board President Saar. "We commend you for making the commitment to excellence in community college governance."
Mr. Saar resides in Fountain Hills and represents Maricopa Community Colleges District Two. He was elected to the Governing Board in 2010, became the Secretary in 2012 and assumed the role of president in 2014. Learn more about the Maricopa Community Colleges Governing Board.
###
About Maricopa Community Colleges
The Maricopa Community College system includes 10 colleges – Chandler-Gilbert, Estrella Mountain, GateWay, Glendale, Mesa, Paradise Valley, Phoenix, Rio Salado, Scottsdale and South Mountain. It also includes the Maricopa Skill Center, Southwest Skill Center, Maricopa Corporate College and several; satellite campuses and business/industry, technical and customized training institutes, http://www.maricopa.edu. The Maricopa County Community College District is an EEO/AA institution and an equal opportunity employer of protected veterans and individuals with disabilities.