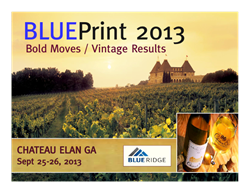 Our community of inventory executives and leaders is extremely collaborative, and each goes home with a specific game plan
Atlanta, Georgia (PRWEB) September 11, 2013
Blue Ridge, leading SaaS demand forecasting, inventory replenishment and analytics solutions provider, today announced the agenda for the BLUEPrint 2013 Conference, taking place September 24th – 26th at Chateau Élan in Braselton, Georgia. The best-practice conference for executives, demand planning and inventory replenishment teams, and other supply chain professionals will include two days packed with sessions centered on the newest strategies and tools in supply chain planning.
Industry leading guest speakers such as foodservice and beverage distributor, Ben E. Keith, and global healthcare and dental distributor, Henry Schein, will present their success stories and outlining their path to supply chain success along with their inventory profitability results. These presenters will detail how they were able to develop and lead their team to overcome pitfalls, while increasing their cash flow and overall profit.
The Blue Ridge team will be introducing new financially savvy tools, leading roundtable events, and providing attendees with an entire tool kit of demand-driven analytics to enable supply chain success. A few of these tools include an inventory excellence scorecard, bold lessons from global leaders, and a period-end plan. These tools are designed to provide attendees with a guideline to understanding their supply chain successes and pitfalls, suggestions to improve replenishment buying practices, and a strategic foundation for the next 18 months.
Blue Ridge is excited to host the conference and believes it will foster innovative supply chain planning practices that position attendees for even greater success. "BLUEPrint is unlike any other conference," stated Dan Craddock, President at Blue Ridge. "We expect many millions of dollars of benefit for our attendees as a whole in the months following our gathering. Our community of inventory executives and leaders is extremely collaborative, and each goes home with a specific game plan to add a significant boost to their service image and the bottom line of the business."
About Blue Ridge
Blue Ridge leads the way in enterprise-class Software-as-a-Service supply-chain solutions. Blue Ridge solutions and services turn inventory investments into cash flow and revenue generation opportunities. The company's robust cloud-based solutions deliver a tightly-integrated, yet flexible architecture for demand analytics, forecasting, planning, replenishment, SKU rationalization and other demand-driven optimization solutions to provide a sound foundation on which companies can solidify and enhance their supply chain initiatives. To find out why global supply chain leaders such as CVS, Shamrock Foods, CRP Industries, Europris, Home Hardware, Martin Brothers and Burris Logistics trust Blue Ridge and its unmatched expertise to be their inventory alignment partner, visit http://www.blueridgeinventory.com/.