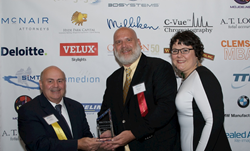 "I'm excited and honored that William has provided me the opportunity to lead such a dynamic and exciting organization," said Anja Smith, new CEO of Sabai Technology.
Simpsonville, SC (PRWEB) April 30, 2014
Sabai Technology, a Simpsonville based network technology company, is pleased to announce the promotion of Anja Smith from chief operating officer to CEO. Smith succeeds William Haynes, who is also the owner and founder of the company.
Smith has been employed at Sabai Technology since 2012, when she transitioned from consultant to full time marketing lead in the organization. In her time at the company, Smith has been influential in the development of new business, operational efficiency, and the implementation of major goals.
Smith, aged 30, may seem an unlikely candidate for CEO. She has taken an unusual career and educational path, graduating this year from Furman University's Undergraduate Evening Studies program. Smith also holds an Associate of Arts and Certificate of Design from Greenville Technical College. After a brief corporate career, Smith decided that she preferred a more entrepreneurial route which she explored by consulting and designing for small businesses in the Southeast. Smith now resides in Simpsonville with her wife, Crystal.
"I'm excited and honored that William has provided me the opportunity to lead such a dynamic and exciting organization," said Smith. "Together, we make a great team and I am so glad that he is going to be by my side moving forward." Haynes will retain ownership of the company, as well as staying active in the role of founder and Chief Strategy Officer, focusing on new technologies, new product development, and relationship growth.
Haynes started the company in 2009 with only $500 and the idea that there were wireless users who craved greater functionality out of their home network. In the proceeding time, he has grown the organization to its current fourteen employees.
"I know that Anja will continue the exponential growth pace that we've thus far enjoyed," said Haynes. "I've been watching her develop into a leader over the past few years and am confident that she is the right woman for the job."
Sabai has big plans for the remainder of 2014. The company is currently in a beta period for version 5.5 of its flagship router firmware, Sabai OS. The firmware is popular in expat and military circles for its ability to broadcast IP relocation technology wirelessly allowing users to connect to their home country's internet.
Sabai has also made headlines recently for its investment in the open source router project, JaiRo, which the company hopes to begin distribution of later this year.
####
Sabai Technology is a young tech company located in Simpsonville, South Carolina. The company has a reputation for great customer service and their advances in consumer VPN Routers. Often billed as the easiest to use and most powerful VPN Router firmware, Sabai OS is the company's current flagship product. In 2012, Sabai Technology introduced the VPN Accelerator, which was it's first foray into an x86 powered device.