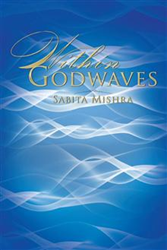 HOBART, Australia (PRWEB) April 07, 2014
"Within Godwaves" is a book about self-realization and God-realization which are the basic need for all sentient beings to meet the purpose of their life. It addresses the current problems of modern society and it offers some tips and techniques to overcome those problems. It also emphasizes on the power of thought to change the quality of life.
Author Sabita Mishra has written this volume to give hope for readers who ache for God and spirituality but are lost. They think themselves unfortunate and not holy enough to reach God just because they do not live in a monastery. "Within Godwaves" is for those who are drawn into the pool of depression, confusion, suffering, loneliness, emptiness, addiction, crime, guilt and who think that life is of no use. Mishra wants to share her experience with all to assure that God and spirituality are not confined within religious walls. People can live a meaningful spiritual life anywhere and still can be close to God. This book also simplifies the technique of exercising popular but misunderstood terms like meditation, karma and thoughts. To sum up, this book is all about the beautiful phenomenon of life.
"Within Godwaves" is very relevant in today's society because as it addresses most of the current issues of concern like depression, suicide, crime, war, addiction, parenting, family and marriage breaks, weak relationships, emptiness etc., it also offers easy solutions to wipe out all these problems.
This book also does not support or reject any religion; instead, it focuses on spirituality assuring that one can be spiritual even without following any religion. Unlike other spiritual books, this book strongly accepts the marriage institution and help people believe that one does not have to leave home, break family/marriage, wear robes or live in a monastery to be spiritual.
About the Author
Sabita Mishra likes to call herself a seeker. She has a Master's Degree in English literature. Beginning her carrier as a school teacher at the age of eighteen, later working as a young lecturer in several colleges, Sabita has assisted thousands of students in using spirituality to bring positive change in their life. Currently, Sabita is practising 'meditative research' on metaphysics.
Within Godwaves* by Sabita Mishra
Publication Date: January 29, 2014
Trade Paperback/Picture Book; AU$29.99; 188 pages; 9781493130924
e-book; AU$3.99; 9781493131099
Members of the media who wish to review this book may request a complimentary paperback copy by contacting Xlibris Marketing Services at 1-800-455-039.