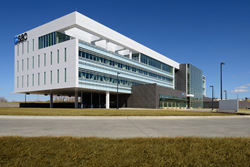 "And we are proud as Nebraskans to be a part of the 100 million membership milestone," says Gail DeBoer, president of SAC FCU.
PAPILLION, NEB. (PRWEB) September 15, 2014
SAC Federal Credit Union (SAC FCU), Nebraska's largest locally owned credit union, is a local model of national credit union growth. Since 2008, SAC FCU membership has grown 78% and assets have grown 130%. Twenty-three branches in Nebraska and western Iowa, including the newest branch in Grand Island, Nebraska, serve more than 84,500 members. In July, assets reached $731 million.
In Nebraska, credit union membership is growing faster than the national average – 2.9 percent compared to 2.5 percent. The Nebraska Credit Union League recently announced that national credit union membership surpassed 100 million, now representing one in three Americans. In Nebraska alone, 13,000 new members joined over the past year to bring the total to nearly 460,000.
Gail DeBoer, president of SAC FCU, says she's not surprised that Nebraska is setting the pace for other states. "Consumers in Nebraska, and across the country, are seeing that the benefits of credit union membership really resonate with them and their financial goals," she says. "Our recent merger with NAFCO Federal Credit Union broadens our footprint to serve additional communities, and our new headquarters, which opened earlier this year, gives us the tools and technology to provide our members with superior financial products and excellent customer service."
Since 2011, credit unions have seen accelerated growth as consumers searched for alternatives to traditional commercial banks and began to gravitate toward the lower interest rates and fees and higher returns on savings offered by credit unions. The Nebraska Credit Union League reports that Nebraska consumers saved $25 million in 2013 by using credit unions.
Credit unions are dedicated to investing in the communities they serve, and they provide products and services exclusively to their members, who also serve as owners. Member trust and satisfaction are also key barometers in the success of locally owned credit unions. A recent joint study by Northwestern University and the University of Chicago showed that consumer trust in credit unions is at 61 percent compared with big banks at only 28 percent.
At SAC FCU, members enjoy access to a variety of products and services, including multiple checking and savings options, wealth management and investment offerings, and commercial banking services. SAC FCU also offers its members online banking, mobile banking or banking by phone, over 50,000 fee-free ATMs nationwide and 23 branch locations. Members also enjoy excellent client service from dedicated, local employees.
"We are pleased that people are placing their trust in SAC FCU and other credit unions across the nation," added DeBoer. "And we are proud as Nebraskans to be a part of the 100 million membership milestone."
For additional information on credit union membership, visit http://www.sacfcu.com.
About SAC Federal Credit Union
SAC Federal Credit Union is locally owned by its members and recognized for its community involvement. Motivated by member service rather than profit, the credit union's focus is on providing safety, soundness and convenience to its membership. SAC FCU is a financial partner for life, helping members with banking, financial planning, home buying, investing, education and retirement planning, commercial banking services and more. Begin the journey to better banking today: http://www.sacfcu.com.