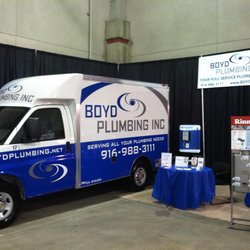 Our Sacramento drain cleaning and sewer repair experts always help the customer to understand all of the available options
Sacramento, California (PRWEB) May 28, 2014
Sacramento trenchless sewer repair and replacement experts at Boyd Plumbing have many years of experience handling simple and complex sewer replacements in the Sacramento area. They are now offering a new discount for trenchless sewer replacement in Sacramento and surrounding areas. Home owners who choose to replace their sewer pipe with trenchless technology can receive $200 off. The sewer pipe replacement length needs to be 20ft or more which generally helps to preserve landscaping. "We do trenchless sewer repair in Sacramento and often times the landscaping is beautiful. Trenchless technology allows us to replace the sewer line without digging up the yard," says Mike of Boyd Plumbing.
Sacramento drain cleaning companies usually figure out sewer problems before a sewer contractor is recommended. "Usually a service plumber will run a camera down the line and figure out there is a bigger problem than just a standard drain cleaning," says Mike. Local plumbers usually have a camera that they can place into the drainage system. The camera is located on the end of a drain snake and the plumber is able to run the camera through the pipe to identify the exact location of the problem. "Sometimes a service plumber can locate the problem with the camera but they are not experts when it comes to trenchless sewer replacement in Sacramento," says Mike.
Sacramento plumbing and sewer experts at Boyd Plumbing are experts when it comes to any type of sewer repair or replacement job. They have the most advanced equipment available which helps them to complete jobs quickly, saving homeowners money. "We respect our customer's time. We don't take extra time on jobs to charge more and we back our work with a guarantee," says Mike.
Rocklin trenchless sewer repair and replacement can be handled two ways. One of the methods is called CIPP which stands for Cured In Place Pipe. For this method the plumber clears the existing sewer pipe with a hydro-jetting machine. This is extremely high powered water that cuts through the layers of sludge that have accumulated over time. Once the pipe is clean epoxy is distributed into the pipe and an inflatable bladder is used to force the epoxy to the wall of the old sewer pipe. Once the epoxy hardens the bladder is removed and a new sewer pipe is left which is made of the hardened epoxy.
Sacramento sewer repair plumbers have another method of trenchless replacement available to them. The other method of trenchless sewer replacement in Sacramento is called pipe bursting. For this method 2 small access points are dug at each end of the sewer. A cable is fed through the old sewer line from one end to the other. A large piece of equipment is used to pull a new sewer pipe right through the old one. This process causes the old pipe to break around the new and that is why it is called pipe bursting. Boyd Plumbing helps educate homeowners about their options.
"Our drain cleaning and Sacramento trenchless sewer repair experts always help the customer to understand all of the available options. We also specialize in Carmichael drain cleaning, repair and replacement. We want to have our customers making informed decisions about their homes and we don't use a heavy sales pitch like some other plumbers in Sacramento, CA," says Mike. Boyd Plumbing has many positive reviews on Yelp, Google and other trusted review sources like Angie's List. Most of their reviews highlight personalized service they provide to customers in Sacramento.
To learn more about the Sacramento plumbers at Boyd Plumbing or their Roseville sewer repair service please visit their website. To learn more about the new coupons being offered for plumbing and drain cleaning in Sacramento please give them a call. Their friendly office staff will be happy to help people schedule service for any type of sewer repair in Citrus Heights or any drain installation in Sacramento.