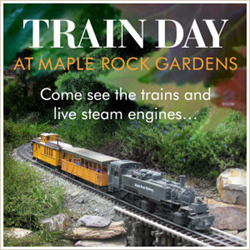 …enjoy both the intricate miniature train systems and the gorgeous scenic gardens…
Newcastle, California (PRWEB) June 08, 2017
Train enthusiasts and the general public alike are invited to Train Day, a garden railroad event presented by Greater Sacramento Area's High-Hand Nursery and the Sacramento Valley Garden Railway Society. Garden railways are model railways set up in outdoor gardens. Visitors can enjoy both the intricate miniature train systems and the gorgeous scenic gardens throughout Maple Rock Gardens. The event includes BBQ, drinks, and live music, and parking is free.
Maple Rock Gardens is located at 100 Clark Tunnel Road in Newcastle. Tickets are $10 for adults, available online at http://www.highhand.com or directly from High-Hand Nursery, 3750 Taylor Road in Loomis. Children 12 and under are free. High-Hand Nursery will donate part of the proceeds to the Sacramento Valley Garden Railway Society.
Train Day is hosted by High-Hand Nursery out of Loomis, a local nursery and greenhouse offering high-quality plants and gardening services. In addition to Train Day, High-Hand Nursery will be holding several other pop up events at Maple Rock Gardens over the next few months. For more information, contact High-Hand Nursery 916-652-2065 ext. 4 or visit the events page at http://www.highhand.com.
About the Sacramento Valley Garden Railway Society
The Sacramento Valley Garden Railway Society is the Garden Railroad Club for Butte, El Dorado, Nevada, Sacramento, San Joaquin, Sierra, and Yolo Counties. Since 1989, the Sacramento Valley Garden Railway Society has brought together garden railroaders to build miniature indoor and outdoor replicas of lumber, mining, farming and urban railroads, and more.
Maple Rock Gardens: One of the finest private gardens in Northern California
Maple Rock Gardens is a 30-acre estate garden with numerous attractions for both avid gardeners and the general public. The 30-year-old garden is set within almost four acres of farmland and has gone through extensive remodeling since its birth. Guests can take tours throughout the themed garden rooms — from Japanese style settings to formal English gardens. There are over 50 varieties of Japanese maples, over 150 flowering peonies, and a wide variety of other plants such as ferns, dogwoods, and irises. Intricate water features and other gardening treasures make Maple Rock Gardens an unforgettable experience. The garden is also home to one of Northern California's largest G scale railroads, complete with its own train house.
Maple Rock is High-Hand Nursery's test garden. Various plants are tested for dependability, beauty, and ease of care. The orchard at Maple Rock consists of over a hundred of the original, decade-old Fuji apple trees. The farm at Maple Rock produces many varieties of fruits and vegetables.
About High-Hand Nursery
Maple Rock Gardens is owned and operated by High-Hand Nursery in Loomis. High-Hand Nursery is Sacramento Area's premier garden center, offering a diverse selection of high-quality and unique varieties of plants, trees, flowers, and vegetables, as well as specialty items like succulents, topiaries, hanging baskets, and many more.
A variety of services are offered through High-Hand Nursery, including landscape consultation, design services, and aquatic garden design, consultation, and installation. In addition to plants, the nursery carries many unique garden accessories and artwork—pottery, sculptures, benches, tables, fountains, and other treasures. The knowledgeable sales staff at High-Hand is ready to assist customers with their gardening needs. The nursery is open every day, from 9-5 Monday through Saturday and 9-4 on Sunday. High-Hand is located at 3750 Taylor Road in Loomis.
Visitors can also enjoy dining at High-Hand Café, a farm-to-fork restaurant located at the nursery. Much of the café's produce comes directly from Maple Rock Gardens farms. When mother nature allows, food is harvested daily and delivered eight miles to High-Hand Cafe where it is prepared and served within hours of its arrival — fresh vegetables, berries, citrus, and fruits. The café is open Tuesday through Friday from 11 a.m. to 3 p.m., and Saturday through Sunday from 9 a.m. to 3 p.m.