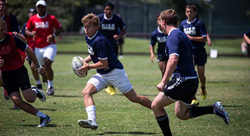 Aspiring athletes have the opportunity of a lifetime to learn from some of the game's most prominent figures.
San Rafael, CA (PRWEB) April 08, 2014
US Sports Camps is pleased to announce two new Nike Rugby Camps in Sacramento, CA this summer. Boys, ages 9–18, can develop their skills while working directly with top-notch coaches and professional players including current Team USA Rugby members. Campers of all ability levels have the option to choose between a two-day weekend clinic, located at William Land Park, as well as a three-day camp at Jesuit High School in Carmichael.
"Aspiring athletes have the opportunity of a lifetime to learn from some of the game's most prominent figures," states Nicholas Brunner, manager of Nike Rugby Camps. "The weekend clinic preceding the test match will include a bevy of Team USA players, and camp participants can learn about their experiences leading up to the professional ranks and what it takes to play at the highest level."
The Nike Rugby Camp at Land Park, Sacramento will take place on June 20th – 21st from 9:00am – 4:00pm. This program coincides with the international test match between Team USA and Canada on Saturday, June 21st. Members of Team USA including Captain Todd Clever, Mike Petri, Tai Tuisamoa and Hayden Smith will be present. Campers receive instruction and enjoy motivational speeches from these world-class athletes about their experience at the professional level. Campers are encouraged to attend the test match following the conclusion of the Nike Rugby Clinic.
"Our clinic gives players the chance to completely immerse themselves in an international test match experience," states Nike Camp Director and Founder of Elite Rugby Camps, Ethan Willis. "Two days of action-packed training lead by current and former USA players is followed by the chance to attend the USA game and watch the players they just met – this is a can't miss clinic for Northern California youth players."
The Nike Rugby Camp at Jesuit High School, Sacramento is directed by Stanford Head Coach, Matt Sherman, current/former Team USA players, and members of the Jesuit Rugby coaching staff. Jesuit boasts one of the most decorated high school rugby programs in the nation, having won seven national championships and 11 California State titles. This program will run from 9:00am – 3:00pm from August 4th – 6th at Jesuit High School's athletic facilities. Coach Sherman, who runs Nike Rugby Camps at Stanford University, Redwood High School (Marin County), and California High School (San Ramon), is honored to be adding the decorated Jesuit HS to his schedule of camps this season.
"We're thrilled to bring a Nike Rugby Camp to the Sacramento area," says Stanford Rugby Head Coach and Nike Camp Director, Matt Sherman. "Sacramento has for a long time been a nucleus of strong high school and youth rugby in America, and we hope to complement those wonderful programs with a strong camp experience that will offer a fun, challenging, and rewarding opportunity. Some of the best players in the country come from this area, and many have also become regular Nike Rugby Camp instructors, such as Colin Hawley (USA 7's and 15's Veteran, Jesuit HS and Cal alum) who will be joining my staff."
Nike Rugby Camps (NRC) is a division of US Sports Camps, Inc., America's largest sports camp network. In 2013, NRC joined forces with ELITE Rugby Camps and Evolution Rugby Camps to provide the highest quality rugby camps in the nation.
About US Sports Camps, Inc.
US Sports Camps (USSC), headquartered in San Rafael, California, is America's largest sports camp network and the licensed operator of Nike Sports Camps. The company has offered summer camps since 1975 with the same mission that defines it today: to shape a lifelong enjoyment of athletics through high quality sports education and skill enhancement.
Players, coaches, parents and others interested in Nike Rugby Camps and US Sports Camps can visit the company's website at USSportsCamps.com/rugby or phone 1-800-NIKE-CAMP.