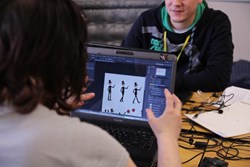 Global Game Jam is not just for games programmers. There is nothing quite like it.
London (PRWEB UK) 13 January 2014
Billed as a Hackathon for game development, together with participating students, the campus will welcome over 50 jammers to a 48 hour race to develop a working game set to a secret theme, announced only at the start of the jam.
Over 3000 games were created worldwide at last year's jam with teams participating at SAE London winning awards and games such as Surgeon Simulator 2013 going on to a full release on Steam.
"Global Game Jam is not just for games programmers. Talented creatives with a wide range of skills from sound and graphics to writers and programmers will come along to take part. It's a great experience for our students and for all those that participate. There is nothing quite like it," said Jason Colman, SAE Institute Games Programming Leader and GGJ organiser.
Applications are still open for creative professionals to join the SAE London Global Game Jam site and can do so by applying here.
SAE Institute was founded in 1976 in Sydney, Australia offering post-secondary courses in audio engineering. SAE Institute has since grown to become the world's largest practical creative media educator with 54 campuses in 26 countries and an expanded course portfolio in creative media technologies with a strong tradition of practical application and industry recognition.
In the United Kingdom SAE Institute have 4 campuses in London, Liverpool, Glasgow and the world headquarters in Oxford.
SAE Institute is accredited by Middlesex University, London UK, is a partner in Middlesex University Skillset Academy, a member of Study UK and a listed body on the register of the Department for Business Innovation & Skills.
About Global Game Jam, Inc. (GGJ):
Global Game Jam, Inc. is an international non-profit corporation based in San Luis Obispo, California, with a mission to foster game design and game education through global events. GGJ is a volunteer-run organization, whose leadership, site organizers and other volunteers dedicate their time with the goal of creating opportunities for individuals and teams to come together as a community with the challenge of making games in a short, intense period of time. Global Game Jam believes that by creating these events it showcase game development at its core by forcing game makers to go back to basics in order to quickly make games through innovation, experimentation and collaboration.