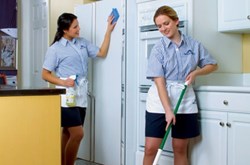 Choosing a trustworthy cleaning service is important for any homeowner, follow these simple tips from industry experts to make sure you make the right decision.
Los Angeles, California (PRWEB) February 08, 2014
As homeowners across the country are preparing for the start of a new year, one of their resolutions may be to keep a cleaner and more organized home. For people who are able, having a professional cleaning service can be a great way to make life just a bit easier. While most cleaning services are staffed by responsible, honest people, it's important to do preliminary research and take time to find the right company, because otherwise a homeowner can be compromising the safety and security of their home and family. Even the best home alarm system can't protect against someone who's been invited into a home and left unattended with valuables.
AlarmSystemReport.com, a website that provides unbiased FrontPoint security reviews and ADT reviews, has created a list of tips to help guide homeowners in their selection of a cleaning service.
1. Choosing from services that have been referred by friends and family members is often the best way to go about narrowing down a short list of potential candidates. If it's not possible to find recommendations from personal acquaintances, the next best way to gauge a cleaning service's level of safety, security and quality of work is by asking for a list of references from the company. It's also a good idea to consult websites like Angie's List, and read about local services based on reviews from other people in the community.
2. A homeowner should conduct an over-the-phone interview before ever having a company come to their home. Many cleaning companies will offer free estimates, but speaking with them on the phone first will help determine if they should be coming for an estimate. Ask questions about not only their cleaning services, but also whether they are licensed and bonded in case of damage or theft that may occur within the home. Also, consider the fact that while an individual cleaning professional may have advantages, they may not have insurance or bonding.
3. Don't be afraid to ask questions concerning safety and security. A professional company shouldn't hesitate to answer these type of questions, and should not seem annoyed or upset that a homeowner has asked. It may also be necessary to request a background check for each of the employees who will be in the home, and if it's an individual, a homeowner should request a background check for that person before hiring them.
About AlarmSystemReport.com
AlarmSystemReport.com is a leading independent resource for consumers, providing reviews and rankings of the top home alarm companies in the country. Information is available on a state-by-state basis, from California security systems to Pennsylvania security systems. Site visitors can also access coupons and discount codes that can be used toward the purchase of a home alarm system.