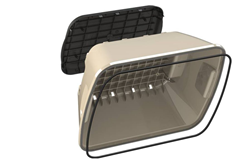 Our stool is unique because no matter where your child stands on the Safe-T-Stool, parents will have peace of mind that it will not flip over.
New Bern, NC (PRWEB) February 27, 2014
The newly launched Safe-T-Stool, the only step stool engineered to never tip or flip, entered the market with high demand and rave reviews on last month on QVC, selling over 1700 stools in less than ten minutes. The revolutionary design makes it physically impossible to turn over, regardless of where you stand on the top of the stool. This is especially important for younger children because they do not have the innate awareness to stand in the center of a stool.
"With all other stools, weight distribution is a major factor in whether a stool will tip," stated Ron Pontiff, inventor and CEO of Safe-T-Stool. "Our stool is unique because no matter where your child stands on the Safe-T-Stool, parents will have peace of mind that it will not flip over."
The idea of the Safe-T-Stool came about in 2003 when Pontiff observed the two-year old daughter of a family friend fall due to an unsafe stool while she was brushing her teeth. As she leaned forward, the stool flipped out from under her and she came crashing down on the sink and had to be rushed to the ER. Pontiff immediately thought there had to be a better way. He built a prototype and the Safe-T-Stool was born.
Engineered for optimal safety, Safe-T-Stool has an anti-slip top and bottom, no sharp edges and has a 500 lb load capacity. It comes in a variety of seven vibrant colors, and it's made of polypropylene, which is almost indestructible. And due to Pontiff and his team's insistence, the Safe-T-Stool is made in America.
Pontiff appeared on national shopping network QVC to officially launch the Safe-T-Stool nationally. Within minutes, the over 1700 stools had been sold. To date, it has sold over 2000 stools through QVC and has a five star customer rating.
"We have been working on the development of the Safe-T-Stool for 10 years and to see it so well-received by the public is very rewarding," stated Pontiff.
Unfortunately, stool and ladder injuries have increased 50 percent over the last 10 years, with over 700,000 people requiring medical attention just last year. This does not include unreported accidents.
"We believe the Safe-T-Stool will help decrease the number of children that suffer falls from simple daily activities caused by faulty and unstable step stools and ladders," continued Pontiff.
Retailing at $39.99, the Safe-T-Stool's price is comparable to other step stools on the market, but according to Safe-T-Stool CFO, Fred Rogers, the value far exceeds the price.
"Throughout the development of this product, we have endured the long, tedious process of building what we think is the safest stool on the market because, to us, it's about our customers' safety," stated Rogers.
For more information or to order the product, visit http://www.safetstool.com.