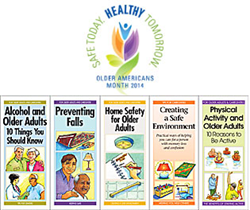 Share the theme of safety during Older Americans Month and beyond.
Santa Cruz, CA (PRWEB) May 07, 2014
Older Americans Month is a time to recognize seniors for their contributions. It is also a time to provide older adults, and those that care for them, with information to help them be as healthy and active as possible. Because older adults have a greater risk for unintentional injuries, this year's theme "Safe Today. Healthy Tomorrow." focuses on injury prevention. With topics such as fall prevention, creating a safe home, and maintaining strength and balance through fitness, Journeyworks brochures are a great way to share the theme of safety during Older Americans Month and beyond. Health professionals, and others who work with seniors and their families, can request the Safe Seniors sample pack by visiting Journeyworks Publishing's Safe Seniors review pack page.
About Journeyworks Publishing
Journeyworks Publishing is a national health education and health promotion publisher with more than 10,000,000 pamphlets, brochures, booklets, posters, bookmarks, videos, digital pamphlets and other products distributed each year. Used extensively by public health departments, hospitals, schools, VA programs and more, Journeyworks materials are known for being creative, effective, easy-to-read and accurate. You can learn more by visiting http://www.journeyworks.com.