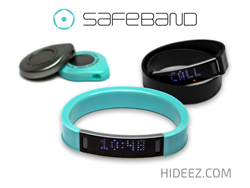 SafeBand is on the leading edge of technology and wearable fashion providing, an all-in-one band and three MiniTags to track your valuables and your life.
Leawood, KS (PRWEB) December 03, 2014
Hideez, a company comprised of seasoned hardware and software developers and executives, today launched SafeBand, an all-in-one multifunctional safety bracelet with tracking MiniTags. The comprehensive product is making its debut on Kickstarter offering customers extremely competitive pricing for the most advanced wearable accessory available. Visit https://www.kickstarter.com/projects/491352897/safeband-smart-wristband-with-companion-minitags
SafeBand is a multifunctional bracelet and a set of MiniTags that can act as an identifier, a safely lock for smartphones / laptops and also operates as a personal safety device and activity tracker. SafeBand also sends notifications and messages in real time.   
"SafeBand is on the leading edge of wearable fashion providing, an all-in-one band and three MiniTags to affix to users valuables," stated CEO of Hideez, Regina Sergyienko.  "By merging tracking, security and safety features SafeBand has combined all of the required features for the busy person who wants access their life data now while having peace of mind regarding their valuables." 
Valuables Secured
A network of MiniTags is able to control the location, acceleration and proximity of tagged objects, protecting valuables from being lost, forgotten or stolen. Each tag is controlled by the main device, and if anything tagged strays too far from from the SafeBand, the device will immediately vibrate.
The MiniTags will keep note of sudden change in proximity to the band, keeping users in the know at all times. 
SafeBand can also sense locations- home, work or in less safe environments, and will adjust its range and level of protection accordingly. 
MiniTags are mini- Detectives
The MiniTags can be set to "guard mode." When left behind to "guard" an object, the MiniTag will record all attempts to touch or move it. The MiniTags are completely independent of the smartphone, they are connected directly to the SafeBand.
SafeBand Notifications
SafeBand acts as a dashboard for a busy life. Current time, text messages, missed call, social networks, calendar messages – synchronized with a smartphone and allows users to receive notifications and even control actions as well. SafeBand also has its own push filter, to avoid spam notifications.
Activity Tracker 
SafeBand tracks daily activity. It will keep track of the number steps taken, calculate how long users exercised, wake them up when they want or will signal that they are sitting too long in one place without moving.
Data Security
By connecting to devices - PC, laptop, tablet or smartphone via Bluetooth, the band or MiniTags work as an identifier. Which means that computers and smartphone are locked and unlocked automatically based on the proximity to the band. The users wont be bothered with having to type in passwords once they are in proximate location. The SafeBand application will also provide a level of data security even in modes defined by the user as 'safe', such as home and office.
Personal Security
SafeBand bracelet and MiniTags are each equipped with a "Panic Button" – one push will start an emergency call on the device. This feature commands immediate action when in danger. This button is also programmable.
SafeBand and MiniTag Technology 
SafeBand uses Bluetooth to connect to devices (smartphone, tablet or laptop) and to the MiniTags. Bluetooth Protocol with Low Energy (BTLE) technology allows SafeBand to save energy and to work for long time without recharging. SafeBand is unique in the sense that it is both a peripheral device for the smartphone and the master device for MiniTags at the same time. This feature is enabled by Bluetooth 4.1 interface, not presently on the market. This standard is new, and has not been mass produced by Bluetooth chips manufacturers. SafeBand uses the pioneer alpha-version of Bluetooth 4.1 developed by Nordic Semiconductors. 
Design and Specification
SafeBand is designed to fit all tastes and styles – by having a multitude of color and strap variations.
SafeBand offer leather, double turn leather and silicone straps. Leather comes in four basic colors - black, white, red and brown. Silicone straps can be black, white, gray, cyan, green, orange and pink.
SafeBand can also be custom designed for wrist size - therefore, there is no 'one size fit all' compromise.
Availability
SafeBands Kickstarter campaign is set to finish in January 2015, and first SafeBand devices will be delivered to users in March 2015. SafeBand starts at $149, however, on Kickstarter it will be available for $69.
For additional comments, please contact: safeband(at)hideez(dot)com.
Facebook
https://www.facebook.com/pages/SafeBand/1478736265749449
Twitter: @safeband_tech