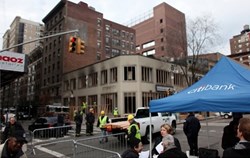 Whatever the condition of the safe deposit boxes, the bank is not liable for the contents, stated a Citibank representative.
Elgin, IL (PRWEB) February 06, 2014
"Whatever the condition of the safe deposit boxes, the bank is not liable for the contents," stated a Citibank representative following the recent fire at a Citibank branch in Manhattan that burned for almost two days. Safe deposit box holders once again learned a difficult lesson - they probably are not insured against the damage. The fire which gutted the entire branch started in the basement where the vault storing the safe deposit boxes was located. The safe deposit boxes baked in the concrete oven for well over 30 hours according to reports. Adding to box holder frustration, The Federal Deposit Insurance Corporation which insures bank account deposits does not cover the contents of safe deposit boxes.
This undoubtedly came as a shock to many of the safe deposit box holders at this Citibank location. A recent study by Survey USA found that almost 50% of box holders believe they are covered by insurance when they lease a box. Citibank, like most banks in the US, relies upon the disclaimer language in its 6 page single spaced box rental agreement. Page 5 of the agreement provides, "Insurance. We do not carry insurance on the contents of your Box. If you would like insurance coverage against damage or loss for the contents of your Box you should contact your own insurance company." How many of the box holders actually read and understood that language? And of those that did, how many walked out of that branch after renting the box intending to follow up with their insurance company but never did?
So what will these unsuspecting box holders find out when they contact their homeowners carrier? There is minimal or no coverage for damage to items held in a safe deposit box. Under a standard policy, there is a maximum limit for all jewelry between $1,500 and $2,500 dollars and on any individual piece of $1,000. There are limits for other property typically stored in a safe deposit box; firearms, stamps, trading cards, comic books, autographed memorabilia, other collectibles, fine art; silverware, gold ware, and china, cash, money orders and stock certificates all may be subject to limits.
Box holders may buy higher limits or obtain a personal article floater as an endorsement to their standard policy. "There are regional differences in pricing which may also vary by item, but you can expect to pay 60 to 90 cents per $100 of coverage," said Dave Miller, Partner of the Miller Insurance Agency in Barrington, Illinois. Be prepared to itemize the contents and obtain a third party appraisal for the property, which may cost $100 to $200 every one to two years.
Then there is the issue of precious metals. Almost one million people buy precious metals such as gold and silver and take home delivery annually, many presumably placing their valuables in a safe deposit box. The standard homeowners' policy provides no coverage for bullion coins stored in a safe deposit box.
And while they may not agree, these Citibank box holders are lucky the damage was caused by a fire. If the box contents were damaged by a flood, which is the most common peril threatening safe deposit boxes, there would be no coverage under a homeowner's policy.
Just recently, a new product has been introduced which provides blanket coverage for whatever is inside the box at the time of a loss, whether from fire, flooding, terrorist attacks or any other natural or man-made catastrophe. Itemization of the contents or appraisals is not required, which saves the box holder money and also maintains their privacy and confidentiality. There are no deductibles. A box holder determines the amount of coverage and pays the corresponding premium. A unique feature of the coverage is that it pays $3,000 to help with the costs or replacing important documents such as: wills trusts, deeds, titles or any other personal documents in the box which are damaged or destroyed. The cost runs 20 to 25 cents per $100. Appropriately named Safe Deposit Box Insurance, many banks across the country now offer this insurance option to their box holders. It can also be purchased online at http://www.sdbic.com.
Insuring your valuables in a safe deposit box makes good sense to David P. McGuinn. He should know. As founder and President of the Houston based Safe Deposit Box Specialists he has spent forty-five years providing consulting and training services nationwide to financial institutions concerning their safe deposit box operations. He has also served as an expert witness in numerous cases involving safe deposit box losses. "I have seen countless examples where box holders' contents were stolen, lost, damaged, or destroyed through burglaries or catastrophes like the fire in Manhattan. The vast majority of box holders believe their financial institution or the FDIC and NCUA have their back. I encourage my clients to go beyond the language in their rental agreement and inform box holders about this lack of insurance. Offering an option to insure the contents when consumers rent or renew their safe deposit box is the best way to eliminate a box holder's insurance confusion."