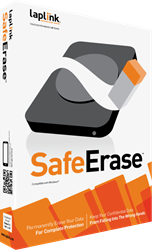 There is a hidden danger behind moving off of Windows XP that many PC users aren't considering. What about the data that is on the old PC's hard drive?
Bellevue, Wash. (PRWEB) February 27, 2014
Laplink® Software, Inc. today revealed the solution to the hidden danger behind moving off Windows® XP in preparation for end of XP support.
End of support for Windows XP begins on April 8, 2014. Windows XP users who choose to stay on the operating system after April 8 will face an end to hot-fixes, technical assistance, and security updates. Remaining on Windows XP is risky; many reports point out that the lack of security updates will make it a big target for hackers, viruses, and other malware. When Microsoft® releases security updates for Windows 7 and 8, attackers will check and test Windows XP for these same vulnerabilities. For example, if after April 8 a vulnerability is patched in Windows 7 and that same vulnerability exists in Windows XP, it will not be patched in Windows XP, even though it is known. The result will be a rapidly increasing number of widely known vulnerabilities in Windows XP, creating easy targets for malicious attacks.
"Studies suggest that Windows XP users will be six times more likely to suffer from a virus or other malware," stated Thomas Koll, CEO of Laplink Software. "We highly recommend that XP users upgrade their current operating system or transfer to a new PC. Our flagship product, PCmover, helps users move into a new PC seamlessly, so there's no reason to face the risks that Windows XP will carry."
PCmover® is the only utility that transfers all selected files, personalized settings, and even applications from an old PC to a new one. Its streamlined process handles everything automatically using a step-by-step wizard to guide the user through individual selections. Users can choose to transfer everything, or they can select which applications, files, and settings to leave behind. PCmover handles the rest. There's no need to find old serial numbers, license codes, or installation disks because PCmover transfers most applications to the new PC installed and ready-to-use.
PCmover is also the only migration tool that comes with 24/7 Free Transfer Assistance, making it the perfect solution for PC users of any skill level. Users can simply call the toll-free number and receive expert guidance from a certified migration specialist. The migration specialist will walk any user through the complete transfer process.
"There is a hidden danger behind moving off of Windows XP that many PC users aren't considering," continued Koll. "What about the data that is on the old PC's hard drive? Data that isn't erased permanently can be retrieved, causing users to become victims of identity theft. And simply deleting files or reformatting the hard drive doesn't prevent the data from being recovered. We provide the solution, Laplink SafeErase. PCmover plus SafeErase is the perfect combination to move off of XP and leave nothing behind."
Research shows that identity theft is the fastest growing crime in America and affects approximately 19 people per minute. The average victim of identity theft suffers an estimated loss of $500 and 30 hours to resolve the crime. Deleted data can be recovered; even when hard disks are formatted, data recovery software can be used to obtain personal confidential data. Laplink SafeErase™ protects users by permanently deleting data so that no one can retrieve and use it.
Laplink SafeErase is the fastest and most secure way to permanently delete sensitive information from an old PC before selling or recycling. Utilizing a series of government recommended deletion methods, SafeErase completely wipes personal data from the hard drive making it completely unrecoverable.
PCmover Ultimate – which includes PCmover Professional, SafeErase, and a high-speed transfer cable can be purchased for under $60 at http://www.laplink.com or Amazon®, Best Buy®, Fry's™, Micro Center®, Office Depot®, Office Max®, Staples®, and other major software retailers and PC manufacturers in North America, Europe, and Japan. Laplink SafeErase is also sold separately for $29.95 at http://www.laplink.com and most software retailers.
About Laplink Software, Inc.
For over 30 years, Laplink has been the leader in providing software used for PC migration, remote access, file transfer, and synchronization. The privately-held company was founded in 1983 and is headquartered in Bellevue, Washington.