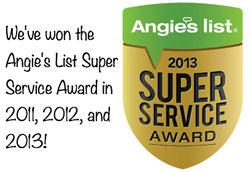 Phoenix, Arizona (PRWEB) March 15, 2014
Free chip repair will be offered on all newly installed windshields by SafePro Auto Glass as they celebrate winning the coveted Angie's List Super Service Award for the third year in a row.
"This achievement is a first in our industry," says company founder Rex Altree, "and we want to share the benefits with the ones who put us here. For our customers, these service awards validate our trustworthiness in handling something that may have extreme consequences if not done properly. Better service on their windshields ultimately means the assurance of safer travel. Free chip repair will allow our customers to more easily correct minor imperfections before they can become major cracks that may threaten their safety on the road."
SafePro's award-winning service includes first-rate workmanship, the use of top-quality glass and adhesives, and having documented on-time installations.
Drivers searching for a Phoenix windshield replacement company who prides itself on quality and integrity may receive a fast and Free Quote by calling: (602) 507-4232
"For us, as a company," Altree explains, "the 2011, 2012, and 2013 Super Service Awards from Angie's List are validation by an impartial third party that our level of service remains consistently high. I believe this is a direct result of our mission statement that says our goal is to retain our customers for a lifetime, solving even their smallest problems or issues with excellence. It states that we will give each customer a service experience that is nothing short of legendary."
SafePro Auto Glass has served more than 500,000 customers in Arizona since Altree and his wife, Debbie, started the company 16 years ago in 1998. The largest family-owned Phoenix windshield replacement business, SafePro offers statewide service and a lifetime warranty that covers the U.S., Canada, and Mexico.
Drivers in need of a trusted auto glass replacement company in Phoenix, or the surrounding areas, may receive a complimentary quote by calling SafePro's dedicated and fast support team at: (602) 507-4232 or they can find more information at: http://azwindshieldreplacement.net/