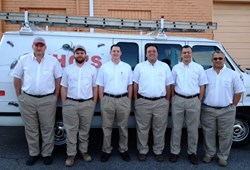 Those wood eaters don't stand a chance against our pest control and crawl space moisture control expertise.
Asheboro, NC (PRWEB) September 30, 2013
Now that Fall is here and the weather is cooling, homeowners need to be aware that it is prime termite season. As the weather cools, termites live longer, increasing the risk of infestation. Otho's Pest Management, a pest control company with over 36 years of experience, has some tips for homeowners to keep their homes protected this Fall.
It is imperative that homeowners understand a termite's biology and habits, which will help when considering the actions needed to be taken to prevent an infestation. Termites love decaying wood and moisture and thrive in those environments. Owner Earl Smith states, "Those wood eaters don't stand a chance against our pest control and crawl space moisture control expertise." Since Otho's Pest Management is also an expert in crawl space moisture control homeowners get double the power to ward off termites.
Each year, $2 billion is spent on termite treatment in the U.S. alone. Much of these costs can be avoided when homeowners take small precautions around their homes. These precautions are simple steps homeowners can take to protect their homes from wood destroyers like termites.
Otho's Pest Management makes the following recommendations:

Keep wood foundation out of contact with soil by raising it six inches.
Minimize the use of wood mulch in landscaping.
Remove dead trees and stumps near the home.
Avoid excess moisture around the foundation of the home by sloping soil away from it.
Promptly repair any leaky faucets or pipes.
Check ventilation in crawl spaces to avoid any moisture build up. Install vents where needed.
Whenever homeowners are in doubt or if they already have an infestation and need help they can call Otho's Pest Management for the best possible solution. Call them today at (252)565-1239.
About the company:
Established in 1976 in Asheboro, North Carolina, Otho's Pest Management is a family-owned and operated pest control company. For over 36 years, Otho's has been serving the Triad area, Asheboro residents and businesses with the safest pest control and transparent business practices. Offices are in Asheboro, Pinehurst and Greenville, NC. Maintaining the highest levels of technology pest management and business ethics, Otho's pest control and wildlife control technicians are state certified or licensed. Getting rid of bugs, pests, insects, wildlife and critters - along with new and old construction treatments are their specialties. Otho's also offers crawlspace moisture control treatments to keep moisture loving insects at bay. Determined to provide the best pest control services, Otho's is dedicated to giving customers the peace of mind of being pest-free. For more information, visit their website at http://www.othospestmanagement.com. Please also check them out on YouTube for tips and updates, http://youtu.be/GM1wtzka4bc.