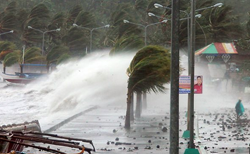 The Haiyan Rebuild Project has designed a special house for this specific disaster.
Manila (PRWEB) November 13, 2013
Still recovering from a magnitude 7.2 earthquake that struck the central Philippine island of Bohol in October, CNN reports that Philippine officials were not prepared for Typhoon Haiyan when it slammed through the cities of Tacloban and Ormoc Nov. 8, leaving a death toll officials fear to be between 2,000 and 2,500, with 800,000 displaced. In response to Haiyan, SafestHouse.com has launched the Haiyan Rebuild project by introducing a "super" house, designed to withstand the most powerful storms that carry winds of more than 400 mph.
At a time when Philippine emergency funds have already been depleted by a series of previous natural disasters, officials are warning people worldwide about the rising number of increasingly destructive storms that are becoming a part of the global landscape.
Disastrous weather events are nothing new, but what were once considered "100 year" storm events are happening back to back, and experts don't expect any relief in the years ahead. Since the Indian Ocean tsunami killed 227,898 in 2004, Hurricane Katrina killed 1,833 in New Orleans in 2005, and last year's Hurricane Sandy killed 285, Typhoon Haiyan appears to stand apart in the ferocity of its winds, and in the type of destruction it reaped on the island nation.
Los Angeles-based Safest House has developed architectural designs that can withstand these mega storms, sparing homeowners the threat of storm damage or even death, no matter where in the world they live. In his documentary film "The Safest House," filmmaker Eric Williams offers real-life examples of these "safest house" designs that withstand winds up to 400 mph, fire and flooding.
According to Williams, Chairman and co-founder of "The Safest House" disaster-resistant and disaster-proof home sales company, safe housing and school designs are expected to change the architectural landscape of North America, Europe and Asia over the next 25-50 years, as the growing trend of extreme climate change continues to trigger a steady stream of highly destructive storms worldwide.
"Safest House" structures are locked into the earth and aerodynamically designed for debris to roll off or deflect entirely," Williams says. "The Safest House has a rock solid concrete core embedded with basalt rebar that will not rust or breakdown, and is many times the tensile strength of steel.
"During temperature changes the basalt rebar will expand and contract at the same rate as concrete, eliminating cracking while maintaining its integrity and strength for centuries to withstand the force of F5 and EF5 hurricanes, tornadoes, tsunamis and fires."
In addition, Williams says the structure is 80 percent energy efficient with an outer layer of polyurethane foam that seals and insulates the interior from extreme conditions of temperature and flooding. An epoxy concrete mix is used for the final coating to keep the exterior unchanged and protected for generations.
"The Safest House" documentary provides viewers numerous examples of these homes surviving the worst storm events, and is distributed by 40 Point Productions."
While typhoons in the Philippines are nothing new, they usually cause destruction from mudslides and rainwater-fed waterways swelling and flooding. But when Haiyan sped across the islands, some weather officials and experts thought they would be spared because it did not linger long enough to dump a deluge of rainwater. What they didn't count on was a storm surge reported to reach 13 feet in Tacloban, and which left a trail of destruction that in some ways mirrored the aftermath of Japan's 2011 tsunami, when an earthquake sent a wall of water crashing into its northeastern shore.
While it is unclear if the power of the storm is tied to climate change, the surge should serve as another reminder to low-lying cities of the need to prepare for the worst.
Since F5 Super Typhoon "Haiyan" was the strongest ever recorded in history, the rebuild project is expected to be several times bigger than Katrina, according to Williams.
"The Haiyan Rebuild Project has designed a special house for this specific disaster, built to endure future typhoons, floods and other natural disasters," says Michael Maxon, Safest House CEO and co-founder. "It is also designed to be bullet-proof and fire-proof, and to resist mold.
"Safest House has devised a method to create four manufacturing production facilities in the Philippines, equipped to build 100,000 disaster proof Safest Houses using government grants, donors and sponsors who support responsible, economic post-disaster rebuilding projects."
Safest House is a global company chartered to provide near to absolute disaster-proof houses currently built in more than 50 countries. For the Haiyan Rebuild project, the company is committed to employing Philippine citizens for 95 percent of all worker and contractor positions.
For further information and to see "Safest House" designs, visit the Safest House website, call 818-451-3515 or email media(at)safesthouse(dot)com
About The Safest House:
"The Safest House" documentary is a 2013 American film written and directed by Eric W. Williams. It is the first to provide empirical evidence that clearly addresses modern housing designs capable of enduring multiple storm events over centuries, thanks to its innovative US Patent design.