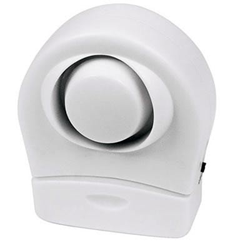 For burglars, an ear-piercing 100db alarm is more than a sign of trouble – it's a giant billboard.
Jacksonville, FL (PRWEB) July 15, 2014
Safety Technology, the country's leading drop ship wholesaler of self defense products, has launched a new Glass Breakage Alarm.
Emitting an ear-piercing 100db, Safety Technology's new Glass Breakage Alarm is a low-cost vibration alarm that is ideal for protecting windows or doors. It can also be used to guard personal property such as computers, TVs, stereos, cabinets, and more.
The Glass Breakage Alarm, which measures just 2" x 2 1/2" x 1," also features simple and easy operation. Simply toggle the side switch to the "on" position, and that's all there is to it. If the glass is hit, knocked or broken, the 100bd siren will activate for 30 seconds before shutting off and resetting. Strong adhesive tape for easy mounting is also included, as is a 12V battery.
"What many people don't know about thieves, is that they're huge cowards – which is often why they're thieves in the first place, because they don't have the guts to earn an honest living and would instead rather steal from honest, hard working people," commented Safety Technology's CEO and founder, Michael Gravette. "And part of their cowardice is that they run at the first sign of trouble. Well, an ear-piercing 100db alarm is more than a sign of trouble – it's a giant billboard – and so it's very likely that long before the 30 seconds is over, the oh-so-brave thief is cowering far away, never to return to that particular address."
Those interested in purchasing a 100bd Glass Breakage Alarm can order online at: http://www.securityprodefense.com/home-protection/glass-breakage-alarm.html.
For more information or media inquires, contact (800) 477-1739 or email office(at)safetytechnology(dot)com.
About Safety Technology
Safety Technology is the largest drop ship wholesaler of self defense products, hidden cameras, and surveillance systems in the country. The company, now in its 26th year, has a roster of over 4000 distributors, and sells in excess of $4 million worth if products a year. It also has an A+ rating from the Better Business Bureau.
Learn more at http://www.safetytechnology.com.