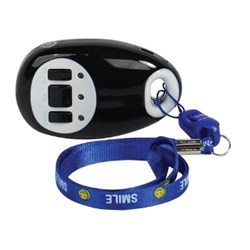 Our new Mini GPS tracker is the perfect blend of size, power, convenience and of course, affordability.
Jacksonville, Florida (PRWEB) September 17, 2013
Safety Technology, the country's leading drop ship wholesaler of self defense products, has launched a new rechargeable and powerful Mini GPS Tracker that can be used for anti-theft purposes, protecting kids, the elderly and pets, tracking employees, and more.
Safety Technology's small and powerful Mini GPS Tracker leverages existing GSM /GPRS networks and GPS satellites to transmit longitude and latitude coordinates to a cell phone via text message (SMS). It can also transmit data to a tablet or PC, and display locations via mapping software.
Set-up and activation is also quick and easy. Users simply request that their cell phone company add a new number to their account. Once they receive the new SIM card, it can be used to communicate with the Mini GPS tracker 24/7.
Other special features include:

Real-time locating and tracking via SMS or included software
Geo-fence function that activates an alarm when the GPS leaves a restricted area
SOS function that sends an emergency help message when a specific button is pressed
Speeding alarm that warns when the device exceeds a pre-set speed
Low-battery alarm to warn when it's time to recharge the battery
The Mini GPS Tracker also includes a charger, cable and easy-to-follow instructions.
"Many GPS trackers are bulky, expensive or don't provide enough features to make them a smart investment," commented Safety Technology's CEO and founder Michael Gravette. "However, our new Mini GPS tracker is the perfect blend of size, power, convenience and of course, affordability. People who start using these won't wonder why they picked one up – they'll wonder how they ever managed before!"
Those interested in purchasing a Mini GPS Tracker for themselves or someone they care about, can order online at: http://www.nannycam.com/Mini-GPS-Tracking-Device-Mini-GPS-Tracking-Device.htm
Those interested in selling Mini GPS Trackers and provide their customers with a powerful security product can learn more at: http://www.safetytechnology.com/gps-mini-tracker.html
For more information or media inquires, contact (800) 477-1739 or email office(at)safetytechnology(dot)com.
About Safety Technology
Safety Technology is the largest drop ship wholesaler of self defense products, hidden cameras, and surveillance systems in the country. The company, now in its 26th year, has a roster of over 4000 distributors, and sells in excess of $4 million worth if products a year. It also has an A+ rating from the Better Business Bureau.
Learn more at http://www.safetytechnology.com