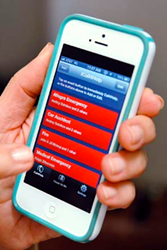 With iCall4Help app, a person can simultaneously summon help from unlimited persons via the phone, voice messages, text messages, emails and Facebook - Carol Kosterka
Santa Barbara, CA (PRWEB) August 01, 2013
When the Santa Barbara News-Press heard about the iCall4Help app they send their staff writer Marilyn Mcmahon and their photographer Mike Eliason to interview the creator. During the interview Mrs. Kosterka, who is 69, described how she came about developing the app.
After Mrs. Kosterka's husband died she began to feel somewhat vulnerable. While still very active and healthy, she wondered what would happen if she fell going up or down the stairs or some place else in the house or garden and couldn't get up. This would be true especially on a weekend. She might not be found for several days. She used to call my mother every day at 5 until she died. With no children, she realized, there would be no one to call her. This is a situation in which many people find themselves: seniors, single moms, latch-key children, those who live alone, people who have medical conditions and anyone who lives an active life style.
Since there was nothing she could find available at the time, she decided to create it. She and her assistant, Andrey Sotnikov, researched and contacted different developers until they found one who agreed to implement the project. After many months of frustration and expense the developer failed to deliver a product that worked. Finally, MountainPass Technology was brought in as a consultant and told her that the prior work was inoperable. They agreed to start over. After three months the app was submitted to the Apple iTunes store and was approved.
As a result, iCall4Help safety app with the potential to turn an iPhone into a life-saving device was born. The app is useful for all ages and covers a wide range of unusual as well as ordinary situations to keep a person safe. Examples of this are situations like painting a wall, changing a light-bulb, cleaning the roof gutters, running at night or alone, walking through isolated areas, encountering suspicious activity or even going on a blind date. With the iCall4Help app a person with a medical condition can notify 9-1-1, their doctor, family and friends of an emergency all at the same time. Likewise, hikers who use treacherous trails can feel confident that someone will be alerted if they need help. Bike riders, runners and swimmers will have the security of knowing that anyone in their address book can be called upon in an emergency.
The app has two distinct functions: manual and automatic. The manual part works with a touch of one button and notifies the contacts by phone, voice messages, text messages, emails and Facebook instantly and simultaneously. The most unique function, however, is the 'Check On Me' feature that works as an alarm and automatically alerts the contacts that help is needed if not turned off.
The service is available 24 hours a day, seven days a week, 365 days a year on a secure and reliable server. The app, which costs $2.99, sets up in minutes and is easy to use. There are no monthly fees or contracts, and no installation of equipment is necessary.