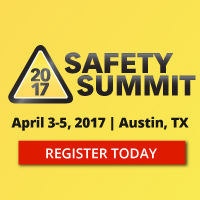 Many expect a more relaxed focus on compliance in the years ahead, but OSHA is still very active and complacency could lead to some significant fines for any company found in violation of existing rules.
Brentwood, TN (PRWEB) March 02, 2017
Safety Summit 2017 is one of the nation's most cost-effective conferences on improving occupational safety. With tracks on mastering Occupational Safety and Health Administration (OSHA) compliance challenges and forward-thinking safety management strategies, the 4th annual Summit will provide a comprehensive training, networking, and exhibition experience for environment, health, and safety (EHS) professionals, including safety managers, directors, and supervisors with varying specializations.
At this 2-day recertification event, with optional preconference workshops, attendees will learn practical strategies to avoid violations under federal law, including best practices for complying with new compliance obligations under OSHA's final rules on silica and walking-working surfaces. They will also learn how to improve training to reduce injuries, secure C-suite and employee buy-in of safety protocols, and slash costs as they learn how to do more with less.
"Considering we are in the midst of an administration transition, with a lot of regulatory changes coming down the pipeline, this type of informational safety training has never been more critical," says Amanda Czepiel, JD, senior managing editor of EHS for presenting company BLR®—Business & Legal Resources (BLR). "Many expect a more relaxed focus on compliance in the years ahead, but OSHA is still very active and complacency could lead to some significant fines for any company found in violation of existing rules."
The Safety Summit will feature an insider perspective from the area director of Austin, Texas, OSHA office, R. Casey Perkins, CSP, who will reveal the upcoming federal enforcement initiatives and regulatory trends for 2017. The speaker panel is a comprehensive mix of safety attorneys, safety consultants, and safety academics delivering a diverse and comprehensive overview of cutting-edge best practices for managing workplace safety. The conference features dynamic keynotes by SafeStart's Tim Page-Bottorff, CSP; president and COO of ProAct Safety, Shawn M. Galloway; and principal of MyValueTree, Alden B. Davis.
Safety Summit attendees will:

Access expert tips to avoid fall fatalities, injuries, and costly citations under the new Walking-Working Surfaces and Fall Protection Rule.
Test-drive new technologies to improve the effectiveness and accessibility of safety training.
See how to ace an OSHA worksite inspection, and avoid increased penalties.
Understand the implications of OSHA's Final Rule on Silica ahead of the 2018 compliance deadline.
Uncover ergonomic strategies that really work to increase productivity.
Get tips to comply with Injury & Illness Reporting requirements so your OSHA filings are accurate.
Learn how better to manage risk using the latest Job Hazard Analysis best practices.
Benefit from exclusive Q&A with some of the nation's most sought-after safety experts.
Earn critical safety recertification points toward professional development.
Safety Summit 2017 will be held at the Sheraton Austin Hotel at the Capitol. To register or to learn more about the conference, visit SafetySummit.BLR.com.
About Business & Legal Resources
BLR®—Business & Legal Resources helps U.S. businesses simplify compliance with state and federal legal requirements, and we help them become more successful. We do this by offering authoritative content and practical, easy-to-use tools. Through our expert in-house editors and exclusive attorney network, we provide the most comprehensive, reliable state-specific information available—and we do it in all 50 states. Our award-winning information products—including training programs, events, Web portals, reports, and subscription services—give businesses of all sizes and industries the best tools available at affordable prices. Visit BLR.com or call 800-727-5257.
###