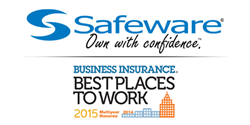 Our core values are centered upon respect, teamwork and genuine passion for our business.
Dublin, Ohio (PRWEB) November 11, 2015
Safeware has been awarded the recognition of "2015 Best Places to Work" by Business Insurance and Best Companies Group for the second consecutive year. Ranked as number 15 of 52 total small companies rated, Safeware rose in the listings by sixteen spots this year, an impressive feat that reflects the company's dedication to maintaining a positive work environment and the development of its associates.
Safeware's President, Bryan Schutjer, shared that, "I am proud to lead a company that is experiencing rapid growth while maintaining a culture that results in prestigious accolades such as the Best Places to Work designation. Our leadership team is dedicated to creating a sense of community among our associates and connecting everyone to our company mission. Our core values are centered upon respect, teamwork and genuine passion for our business."
Business Insurance and Best Companies Group annually recognizes organizations that place extra significance on the skills and happiness of their staff. To earn a spot on the list of Best Places to Work and receive this national award, companies must demonstrate an exemplary standard of excellence in terms of employee satisfaction and opportunities provided by the employer such as benefits, policies and overall philosophy. Business Insurance announced all of this year's award winners in a special edition of the magazine on November 9th, 2015 detailing the culture of each of the companies being honored.
About Safeware
Founded in 1982, Safeware is a fully licensed Insurance Agency as well as a Third Party Administrator for Extended Warranty and Service Plan Solutions. This unique combination gives partners the flexibility to customize a program that meets their distinct needs, and allows their customers to own their products with confidence.
By offering unique and customizable options and best-in-class customer support, Safeware has emerged as one of the Nation's leading providers of protection solutions for consumer products.
To learn more about Safeware, please visit us online or contact us at 1-800-800-1492.