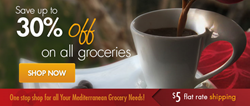 Los Angeles, California (PRWEB) December 31, 2014
Renown as one of the top online grocery stores that specializes in Mediterranean grocery, Persian Bazzar has recently unveiled its latest line of exotic food products that will be sure to excite home chefs.
One of Persian Bazzar's (http://persianbazzar.com/) latest inclusions is Golden Star, a line of ethnic Eastern European food products. This family-run business was started 30 years ago and today, reigns as one of the most popular import food labels in the country. Some of the line's specialities include, but are not limited to, confectionary and smoked fish.
The partnership between Persian Bazzar and Golden Star marks a new era of easy-to-order exotic food products in and around the United States. Home chefs and small restaurant owners no longer have to purchase ingredients from various outlets or in some cases do without certain items because of their scarcity. All it takes is several clicks online and everything will be delivered as advertised.
Besides Golden Star, this Mediterranean grocery store is also proud to introduce other labels to its shoppers. Some of the store's most popular brands include Ahmad Tea, Araz Bakery, Do Ghazal, Mama's Sweet Bread, Rex and Shemshad. With fresh foods like whole wheat pita bread and sour cherry juice available for the taking, nothing is lacking when it comes to Persian Bazzar's extensive list of delicious offerings. Additionally, buyers have attested to the fact that non perishables such as fenugreek leaves, sour tamarind paste, pickled cucumbers and other popular Mediterranean ingredients have never been easier to procure.
As the company boasts a flexible return and exchange policy, shoppers need not worry about buying the wrong items and not getting the chance to send them back. When it comes to perishable items like fresh bread and desserts, shoppers are given 48 hours from the time of delivery to refund and exchange the items. Non perishables are offered a more flexible 7-day refund and exchange policy.
All shoppers have to do is to head to Persian Bazzar's simple-to-use website and place their orders. For a $5 flat shipping fee, their orders will be processed and delivered straight to their doorstep. For shoppers who prefer to place their orders through a familiar third party, e-commerce giant Amazon is the site to head to. Operating under it's parent company name P.N.B., Persian Bazzar is pleased to offer its entire range of groceries through this popular portal.
To place an order or to scroll through Persian Bazzar's list of Mediterranean and Eastern European offerings, head to http://persianbazzar.com/ or call (212) - 696-6666. The team also welcomes email enquiries so feel free to drop them a line at sales(at)persianbazzar(dot)com.