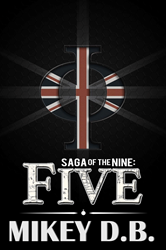 Readers will find 'Five' as a story about the importance of memory: without it, people fall and fail.
Provo, UT (PRWEB) March 17, 2015
Self-Published millennial author Mikey D B is to release his second novel 'Five' and book two in 'The Saga of the Nine' throughout the months of March and April as it is released on various ePublication platforms. The Saga will not yet be available in Print, but plans are in the works to bring the story to the bookshelf.
The year is 2037, and the city of London is in chaos as The Perfectionist seeks to purge all imperfection from its residents. Detective Inspector Vince Huck is the one this Perfectionist seeks out to play his elaborate game of cat and mouse and quickly the Detective begins to uncover the real meaning of the killings, leading him back to 'Area 38' and the Nine Leaders of what is now the former United States of America. Written in a non-linear fashion, readers will find 'Five' as a story about the importance of memory. Without it, people fall and fail.
Mikey D B, husband, college student, full-time blue collar worker, football coach, and writer, finds that the world is changing before his very eyes. Feeling powerless to stop it, he writes in an effort to defend his values and principles. As Mikey works on his third novel 'Owl', a stand alone story about hope change in the most unlikely of places, questions still come up about what the future will hold for his nation and for the world.
'Saga of the Nine: Five' can be found on eBookIt.com's website along with book one of the series, 'Area 38'. Other ebook platforms the Saga can be found on include: Amazon, iBooks, Kobo, Barnes & Noble, Google, Baker & Taylor, and Ingram Digital.
About eBookIt.com
Since 2010, eBookIt.com (based in Sudbury, Massachusetts) has helped thousands of authors and publishers get their books converted to ebook format, and distributed to all the major ebook retailers, including Amazon.com, Barnesandnoble.com, Apple iBookstore, Kobo, Sony Readerstore, Ingram Digital, and Google eBookstore.
###