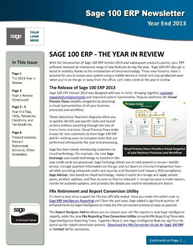 Aliso Viejo, CA (PRWEB) November 25, 2014
Juice Marketing LLC, an ERP channel marketing firm specializing in Sage Partner Marketing Programs, has announced immediate availability of their Sage 100 ERP year-end 2014 newsletter. Part of the company's popular newsletter marketing program, this special and expanded year-end issue includes 7 pages of detailed tips, tricks, videos, and other resources to assist in year-end closing procedures and preparations in Sage 100 ERP.
Mark Badran, Managing Partner at Juice Marketing notes that the Sage 100 year-end newsletter is always popular with Sage Partners. "There's just a lot more content, specific product tips, and detailed guidance related to Sage 100 ERP closing procedures. We get Sage Partners coming out of the woodwork – that we haven't worked with all year – just to purchase this specific year-end issue for their cusotmers."
The articles in the Sage 100 ERP year-end newsletter include:

Sage 100 ERP Year In Review
How to Create a Company Copy and Backup
Sage 100 ERP Module Closing Order
4 Tips for a Successful Year-End
Year-End FAQs and Checklists for GL, AR, and AP
How to Correct an Out of Balance GL
Important Payroll Reminders and Sage 100 ERP Supported Versions
The Juice Marketing newsletter program makes it really easy for Sage Partners to keep in touch with customers and demonstrate their value as a technology partner. Badran says, "We just need a logo and contact info and we take care of the rest. Plus, the newsletter serves as a good reminder that the Sage Partner is available to help their customers during a very busy time of year for most companies."
Visit http://www.juice-marketing.com/erp-newsletters to learn more about the program or request a sample copy of the Sage 100 ERP Year-End newsletter for 2014.
About Juice Marketing, LLC
Juice Marketing provides simple and cost-effective channel marketing programs to Sage, Microsoft, and SAP partners and business software providers. Their turnkey marketing programs - like marketing newsletters, customer success stories, lead nurturing campaigns, press releases, keyword-optimized blog articles, email marketing, social media coaching, and SEO consulting - helps small business technology providers squeeze the most out of their marketing dollar.
Visit http://www.juice-marketing.com to browse the portfolio of projects, review available marketing programs, or subscribe to their VAR Marketing blog.