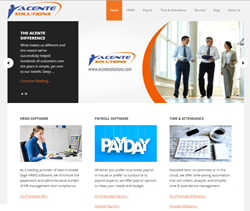 Juice Marketing understands our industry and our business. They customized the site based on that knowledge and experience and I'm extremely happy with the results.
(PRWEB) October 31, 2016
Juice Marketing, a marketing company dedicated to small business technology providers, has announced the launch of a new website for Acente Solutions. Specializing in the implementation, training, and support of Sage HRMS as well as providing both on-premises and outsourced payroll software and services, Acente Solutions engaged Juice Marketing to modernize their aging website in addition to improving search visibility, website traffic, and content.
Nick Laudano, Founder at Acente Solutions, says he realized the old website needed a facelift, but he was also interested in improving more than just aesthetics. "The old site hadn't been updated in a very long time. Not only did we want something new and modernized that we'd be proud to send our customers to, we also needed content that better represented the company we've become and the newer HR and payroll solutions we now offer."
Nick says the decision to work with Juice Marketing on the webite redesign was simple. "They understand our industry and our business," he adds. "And they customized the site based on that knowledge and experience. Every step of the way, the team at Juice Marketing provided helpful guidance and recommendations that made sense to us. Rather than taking a 'one approach fits all' mentality, they got the job done based on our unique needs and ongoing dialogue throughout the project. I'm extremely happy with the new website we launched."
In addition, Juice Marketing optimized the Acente Solutions website for SEO, while adding more diverse content like videos, educational guides, downloadable resources, and calls-to-action designed to turn more website visitors into potential leads.
Go online to http://www.juice-marketing.com/website-design to learn more about websites that are built for the ERP, CRM, HRMS, and technology industry.
About Juice Marketing, LLC
Established in 2004, Juice Marketing provides simple and cost-effective channel marketing programs to Sage, Microsoft, and Abila Authorized partners and business software providers. Their turnkey marketing programs - like marketing newsletters, customer success stories, press releases, blog articles, email marketing, social media, and SEO consulting - helps small business technology providers squeeze the most out of their marketing dollar.
Mark Badran, Founder and Managing Partner at Juice Marketing, began his career in the software industry over 15 years ago. The company's roots are in the business software industry – they understand the reseller channel, they understand the long sales cycle of a business software purchase, and they can help you improve your marketing to generate more leads and close more deals.