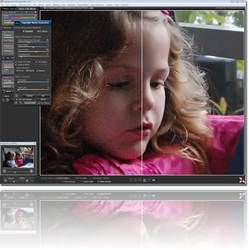 Sagelight makes photo-editing even more powerful with advanced Digital Image Noise Reduction.
Sunnyvale, Ca. (PRWEB) August 14, 2013
Create stunning and evocative images from your photographs with Sagelight Image Editor's easy-to-use controls, real-time feedback, and professional-level tool set.
With its latest release, 19th Parallel's Sagelight Image Editor now features advanced wavelet-based noise reduction.
Sagelight makes the complex simple. Built from scratch for the digital age, Sagelight was written for the casual hobbyist and professional alike to create dramatic results in minutes or seconds.
Developed for creative and artistic flow, Sagelight's robust core image-processing engine keeps the quality extremely high and the guesswork out of editing your image. With 50+ automatic adjustment layers, it is not necessary to understand image-editing principles to get the most out of your image. Sagelight's advanced pro-tools allow hobbyists and professionals to do even more.
Sagelight removes noise and cleans up digital images with its new advanced noise reduction algorithms. Sagelight's wavelet-based noise reduction analyzes your image and keeps details sharp while removing CCD and other noise. Sagelight's DCT-based noise reduction is great for photographic images, and the new NL Wavelet design is great for HDR images as well as removing grain noise without touching other details.
More information on the release site.
Find out why Sagelight is quickly becoming a great alternative to other mainstream editors. Check us out on Facebook, and view galleries of images created in 30 seconds to just a few minutes, as well as HDR, Bokeh, and other images.
About Sagelight Image Editor
A promotional $39.95 lifetime version sale is going until Jan 1st, 2014.
Sagelight is developing a reputation as an alternative image editor due to its fast, professional-level results that anyone can use. Designed for ease-of-use and high quality, Sagelight features a fast, core engine written in SSE assembly language, providing real-time controls and feedback. Sagelight's users include beginners, advanced hobbyists, and professionals who use Sagelight as their primary photographic, digital image-editing tool.
Sagelight runs under Windows 8, 7, Vista, 95, and XP, requiring 1 gigabyte of RAM.