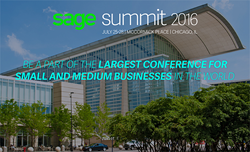 ZAP's inclusion in our global ISV program provides our customers, partners and software developers a consistent platform that delivers valuable data insights
San Francisco, CA (PRWEB) July 21, 2016
ZAP, the leading provider of data intelligence solutions, announced that it would be partnering with Sage to provide the Sage customers, partners and software developers with world-class data intelligence and visualization solutions. ZAP will be showcasing their newly integrated solutions at Sage Summit, July 25-28, 2016 in Chicago, IL in booth 719. Sage Summit is the world's largest event for small and medium businesses.
This new partnership will provide Sage customers with enhanced data management capabilities, delivering users with built-in data models for reporting from multiple sources, including Sage applications, complimentary ISV solutions, and virtually any data source connected. Sage customers will also be able to now take advantage of ZAP's visualization tool for all of their data representation analytics needs. For Sage partners and ISVs, the ZAP solution will provide them with the ability to create repeatable, profitable revenue opportunities within their own customer bases.
This product will be available globally with Sage 300 from August 2016, and will be rolled out for other Sage solutions over the next 6 to 9 months.
Garth D. Laird, President of ZAP comments: "Being able to partner with Sage across their global network allows the entire Sage ecosystem to benefit from the solutions we deliver. By building out solutions that analyze and integrate data across the various Sage business management solutions, ZAP is creating a lower cost and highly scalable way in which partners and developers can support their customers' needs today and tomorrow."
Michael De Jongh, VP, Global ISV & Developer Program for Sage, comments: "ZAP's inclusion in our global ISV program provides our customers, partners and software developers a consistent platform that delivers valuable data insights. By building data merge gateways between many of our business management and accounting solutions, customers will be able to move data between Sage solutions as well as taking advantage of integration from other external data sources. This will help them to gain efficiencies in running their business."
###
About ZAP
ZAP delivers world-class data automation, data modeling, and data visualization solutions that support governed and trusted data outputs from a central point in the business, allowing organizations to better manage their business through enhanced insight whether On-Premise, Cloud or even Hybrid. ZAP Data Intelligence is a discrete solution that manages the integration of multiple data sources while maintaining repeatable trusted data models that can be leveraged across any business, including specific technology and assets for software vendors looking to provide a fully integrated BI experience for their customers. With the ability to interoperate with other leading self-service visualization solutions, ZAP provides a flexible, scalable and economic solution for the data needs of any business.
About Sage
Sage is the market leader for integrated accounting, payroll, and payment systems, supporting the ambition of the world's entrepreneurs. Sage began as a small business in the U.K. 30 years ago, and over 13,000 colleagues now support millions of entrepreneurs, across 23 countries, as they power the global economy. We reinvent and simplify business accounting through brilliant technology, working with a thriving community of entrepreneurs, business owners, tradespeople, accountants, partners, and developers. And as a FTSE 100 business, we are active in supporting our local communities and invest in making a real difference through the philanthropy of the Sage Foundation.