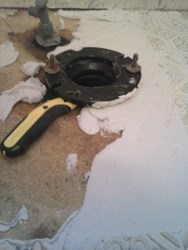 The fix in many cases is so simple.
Erie, Pa. (PRWEB) December 30, 2013
DIY Home Fix Tips is constantly on the lookout for ways to make home repairs more efficient and less expensive.
This month, DIY Home Fix Tips explains an alternate way to fix a floor under a sagging toilet.
Often times, as a toilet is used over the years, it becomes loose on its base and starts to leak water. This leaking is caused because the seal between the toilet and the drain pipe has been compromised.
Very often, the leak isn't even detected until significant damage has been done to the floor underneath. In these cases, some of the wood flooring has to be replaced.
In the worst cases, some of the subfloor along with any underlayment and possibly even a floor joist will need to be replaced.
Sometimes, though, the leak is detected before any significant damage is done. In these cases it's not such a big deal to fix things up - if you know what to do.
Most people have no idea that the fix in many cases is so simple.
There is a product on the market that will dramatically reduce the amount of time and labor needed to make a minor floor repair in these situations. And, if you catch things early enough, you won't even need to put in a new finished floor.
It will still require several hours to complete, but is still something any DIY-er can do, To find out how to repair a floor under a sagging toilet, read the entire article at diy home Fix Tips.
About DIY Home Fix Tips:
The DIY Home Fix Tips blog treats their readers to quality, no bull info, tips, advice, videos and helpful product ideas related to DIY home repair. Brian Whiteman, the blog's author, has spent over 35 years designing, building, remodeling, and repairing residential homes. Mr. Whiteman is still active in repairing homes in the Erie, Pa. area. For more information about DIY Home Fix Tips, please visit http://www.diyhomefixtips.info.