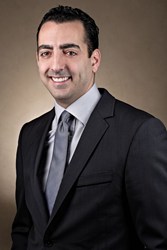 "The energy in our office is at an all-time high. Our staff and clients are the sole reason behind our continued success. There is no better feeling than working with effective professionals who value our philosophy of service," said Michael Sahouri.
McLean,Virginia (PRWEB) August 01, 2013
Sahouri Insurance & Financial, an all lines insurance agency, is expanding both their commercial space and employees. In October 2013 the company will move to the top floor of 8200 Greensboro Drive McLean, VA. The company resides currently in the same building but, they are expanding in all departments and rebranding. Unispace, a commercial interior design company, will be designing their new Tyson's corner commercial space. The space design will have a contemporary influence of a New York City penthouse for work space and events.
While the company prepares its move, they are looking to hire qualified candidates for commercial insurance, employee benefits, personal insurance, and life & disability insurance departments. The company plans to double its employee growth by the end of 2014.
"Our department [Commercial Lines] has doubled in size over the past two years in terms of both premium and staff. I am excited for the new space and continuing the department's growth," said Allen Hudson, Assistant Vice President of Commercial Lines Department.
The space will not only allow company expansion but serve as an event space. There will be a series of events for local executive business owners on key man planning, estates, buy sells and more. Serving as one of the largest insurance providers for embassies, they will also be hosting events and dinners for local D.C. ambassadors.
About the Company
Since 1970 Sahouri Insurance & Financial has been a full-service insurance agency. The company's objective is to provide appropriate coverage for all lines of insurance. They create tailored programs for niche markets to ensure that personal, commercial, employee benefits, and life & disability are appropriately covered to decrease financial risks in all areas of life. Their advisors deliver personal attention to their clients, so that all needs are met from individuals to multi-national conglomerates. In addition to providing guidance to their clients, Sahouri has achieved the status as the largest Embassy underwriter in Washington DC. Sahouri earns trust and strength through many niche markets by treating its members with kindness and generosity. In return they have received long-lasting relationships with a client retention rate of 96%. Adhering to their Sahouri Service Promise to put their clients' best interest first, Sahouri Insurance & Financial provides service with dignity.
Contact:
Heather Moore, Director of Marketing
8200 Greensboro Drive Suite 1440
McLean, VA 22102
Telephone: 703-883-0500
###