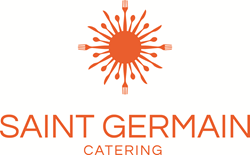 We feel that giving back and supporting our community and charitable organizations is a critical aspect to our very culture. It's part of why we're so intentional and hard driving in the first place... It's a win-win for everyone.
Vienna, VA (PRWEB) July 19, 2014
With two decades worth of experience and knowledge in the catering business, Saint Germain Catering has a lot of information to provide on their website. The professional catering company, who serves clients in Virginia, Maryland, and Washington DC, recognized that updating their branding as well as their website design and layout would benefit both current and potential customers, and better communicate their premier catering services. In light of this, an impending website restructuring and logo change were recently announced.
"Saint Germain Catering has been a force in the DC and surrounding areas, catering to businesses and events for more than 25 years," says Sarah Miller, Vice President of Saint Germain Catering. "It was time we rebranded and restructured our website to better reflect the company's current status in the community, and to better serve our customers."
The new website will still feature access to menu information and scheduling options, while creating a more cohesive look to the overall site. Each page will offer potential clients access to a store of knowledge regarding the best choices for food, delivery, setup, and clean up for a particular event. "Having the site updated and rewritten has given us the opportunity to review our content to be certain we are offering clients the most useful information in the most efficient packaging," says Miller. "The new website should enable clients to more easily determine what options we offer and how to request service."
Along with the advent of the new site, a new and improved logo will be revealed. Again, it will more accurately reflect the current Saint Germain Catering atmosphere and style. The rebranding process provides additional attention for the company. Miller describes the new logo as "a chance for Saint Germain Catering to remind our customers that we are still here, we are still the best in catering, and we are making a mark in our community." Both the new website and new logo design are being designed and managed by Unison.
Meal options expected to be listed on the new menu webpage are items for summer picnics or barbeque styles, soups and stews, informal to formal breakfast options, lunches, desserts, and Saint Germain Catering's delicious cupcakes, among many others. Each webpage on the new site will include links to other relevant places within the website in an effort to maintain flow and connectivity throughout. The menu page is just one, among many, working toward creating a look and feel on the web which matches the professional yet easy-to-work-with catering atmosphere Saint Germain Catering strives to maintain.
Additionally, the site will offer online order forms to make placing an order faster and simpler, while continuing to provide phone and in store ordering as well. Even better, Saint Germain Catering is setting up to provide a smartphone and tablet app for online ordering, bringing technology in to help clients easily order at any hour of the day. "We're excited about this new aspect of the catering business, where our clients can place an order no matter what time it is, no matter where they're at," says Miller. "They can view the website and order catering for an event directly from their smartphone or tablet."
Saint Germain Catering is also set to include an Earn Rewards system on the new site. "This is a great way to say thank you to our customers and let them know how important they are to us," says Miller. "We also hope the Earn Rewards page will create incentive for current clientele to spread the word about us."
Saint Germain Catering has long been known for its high energy and charitable work, and this will continue to be reflected on the new site once it is launched. "We feel that giving back and supporting our community and charitable organizations is a critical aspect to our very culture," says Miller. "It's part of why we're so intentional and hard driving in the first place – we serve our customers excellent food and event services, and then we turn around and serve others by donating our time, talents, and funds to others. It's a win-win for everyone."
The new website is currently set to launch July 21st at: SaintGermainCatering.com.
About Saint Germain Catering
Since 1999, Saint Germain Catering has served the Northern Virginia, Washington DC, and Maryland area with excellent, high quality dishes for a wide variety of events including: weddings, bar mitzvahs, birthday parties, business lunches, corporate meetings, and more. Saint Germain Catering regularly donates to charitable causes such as support to military families and non-interventional veterinary research. Visit SaintGermainCatering.com for more information.