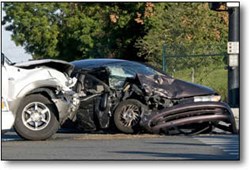 No accident victim should also be forced to suffer a financial injury as well as a physical one.
St. Louis, MO (PRWEB) October 29, 2013
The Onder Law Firm is a group of dedicated personal injury and products liability trial lawyers based in St. Louis, Missouri. Although the firm's attorneys handle complex litigation nationally, often over pharmaceuticals and medical devices, the law firm also has lawyers devoted to car and truck accident claims in the St. Louis metropolitan area and throughout Missouri. They are often asked to comment on the mistakes accident victims most commonly make when dealing with an insurance company and how severe an auto accident injury has to be before contacting a personal injury lawyer. They have responded by updating their St. Louis car accident website, which can be found at http://stlouis.lawyerforcaraccident.com, and Missouri semi and commercial truck accident website, which can be found at http://www.truckaccidentlawyersmissouri.com. The frequently asked questions have been expanded along with new sections that deal in specific types of injuries and how an attorney can help.
The most common tip they offer is: don't wait to consult with an attorney. The initial consultation with virtually all personal injury lawyers is always free and with no further obligation. They recommend speaking with more than one lawyer; everyone's situation is unique and it may take meeting with three or four attorneys to find one with the right match of experience and resources to inspire confidence that he or she will be able to achieve the desired results for a particular case.
Medical bills can rapidly become unmanageable and time off from work resulting in lost wages only compounds the problem. The job of an insurance claims adjustor is to pay out as little as possible for his or her employer, and most are very good at their job. Commercial trucking companies typically have teams of lawyers to keep their clients from having to pay out large settlements, if anything at all. Attorneys representing car accident victims are able to able to obtain fair settlements for their clients by holding the person or company that caused an accident accountable. The auto accident attorneys at The Onder Law Firm pride themselves in using some of the most advanced methods of proving their clients' claims, such as computer-generated 3D accident re-creation videos that show exactly what happened and who was at fault, examples may be seen by clicking here.
The Onder Law Firm welcomes inquiries from other lawyers in regards to handling St. Louis car accident claims, either as co-counsel or on a referral basis.
About The Onder Law Firm
Onder, Shelton, O'Leary & Peterson, LLC is a St. Louis based personal injury law firm handling serious injury and death claims across the country. Its mission is the pursuit of justice, no matter how complex the case or strenuous the effort. Onder, Shelton, O'Leary & Peterson have represented clients throughout the United States, and other firms throughout the nation often seek its experience and expertise on complex litigation. It is a recognized leader in products liability cases such as window blind cord strangulation and pharmaceutical litigation. The Onder Law Firm offers information pertaining to St. Louis personal injury claims and a free attorney case review at http://stlouis.lawyerforcaraccident.com.