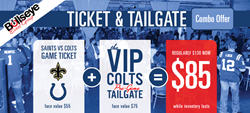 Great food and atmosphere. Morton's Steakhouse food is awesome! Let's Go Colts!
Indianapolis, Indiana (PRWEB) October 22, 2015
The Colts VIP Tailgate experience is rivaled to none in Indianapolis. Microsoft has over 10 Xbox gaming stations set up to play Madden 2016. Colts Cheerleaders visit the tailgate to meet fans, sign autographs and take pictures. There will be a free photo booth to give you a memoir of the event. ESPN 1070's The Fan with JMV and Big Joe Staysniak broadcast from inside the Colts VIP Tailgate. There is also a silent auction on amazing signed, authentic Indianapolis Colts memorabilia. On top of all of that, there are HDTV's scattered throughout Crane Bay showing pre-game NFL coverage.
The Colts VIP Tailgate is a great way for football fans of all ages to get ready for the big game. The tailgate is located inside of the Crane Bay Event Center and is walking distance to Lucas Oil Stadium. There is an outdoor patio with seating and a fireplace as well. The tailgate opens 3 hours before kickoff. For this week's game it is 10:00 a.m. open for the 1:00 pm game against New Orleans.
What about the food and drinks?
Morton's Steakhouse provides the premium buffet for the Colts VIP Tailgate. Waitresses pass around prime beef cheeseburger sliders and there are manned serving areas that have Morton's Steakhouse filets, breaded chicken tenders, parmesan truffle matchstick fries, chili, cornbread and key lime pie. The buffet is all-you-can eat.
Fuzzy's Vodka hosts the open top-shelf cocktail bar. Open beer and wine bars feature both bottled beer and bottled wine from Miller Coors and Heineken. Refreshments are provided by Coca-Cola.
The Colts VIP Tailgate presented by Bullseye Event Group is located at The Crane Bay Event Center. Limited Quantity tickets are available now for the October 25th game against New Orleans. Colts VIP Tailgate Tickets can be purchased through our ticket website.
About Bullseye Event Group
Bullseye Event Group is the Official Events and Travel Partner of the Indianapolis Colts. As a secure, official source for travel, hotel, pre-game parties and tickets, Bullseye Event Group is a direct and dependable source for The Colts VIP Tailgate, Super Bowl 50 travel or ticket packages, The Players Super Bowl Tailgate, Masters and event tickets, delivering unforgettable experiences to fans. To learn more, visit http://bullseyeeventgroup.com.