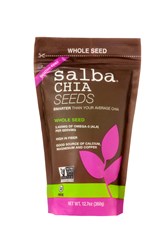 Denver, Colo. (PRWEB) January 29, 2014
As consumers look for inspiration to get slim, they are met with a tidal wave of nutrient-dense, fiber-rich chia recipes on blogs and Pinterest boards. Now a mainstream health trend, naturally gluten free chia seeds have been identified as a key proponent to shape Americans' waistlines in 2014, according to a survey of more than 500 Registered Dietitians by Today's Dietitian. There's more to Salba® Chia seeds than meets the eye, however.
Salba Chia, the most nutrient-dense chia on the market, is already popular as a functional ingredient in innovative 'on-the-go' meals and gluten free foods. Salba Chia seeds can be found in many products because they provide a daily Omega-3 (ALA) and fiber boost, and they are Non GMO Project Verified, and free from trans fats and gluten. Recommended by Rachel Beller, who coaches participants on the hit TV show The Biggest Loser, Salba Chia has recently been seen on The Doctors, the Rachael Ray Show, Fox & Friends and the TODAY Show, where Beller has shared tips from her book to help viewers make smarter choices and manage appetite.
"Using chia to make flavorful smoothies is an excellent entry point, but when you understand what Salba Chia can do when eaten daily, and how easy it is to use, there's a good chance you'll add it to just about everything you eat," says Rally Ralston, Salba Chia's managing partner. "It's one of the most efficient ways to add good stuff like fiber, protein, Omega-3s (ALA) and calcium to whatever you're eating," he noted.
5 reasons to use Salba Chia every day:
1. Boosts Nutrition: One tablespoon of Salba Chia whole seeds provides 800 percent more Omega-3s (ALA) than salmon (EPA/DHA), and contains less than 1 g net carbohydrate per serving. It also contains antioxidants and important minerals like calcium, magnesium and iron.
2. Curbs Appetite: Because Salba chia seeds absorb many times their weight in water, they can help to slow digestion and ward off cravings and sugar crashes. Salba Chia is the only form of chia for which there are positive published health and medical studies.
3. Healthy Digestion: Each serving contains 5.1g of dietary fiber to support healthy digestion and beauty from the inside out.
4. Energy: An ancient food of Aztec warriors, Salba Chia is ideal for today's athletes, runners or super-busy parents. Salba Chia provides stamina for daily activities, as well as a pre- and post- exercise boost.
5. Salba Chia seeds are white: Grown under strict conditions for nutritional consistency, Salba Chia's white seeds blend in easily into almost any food (kids won't notice) and their mild flavor makes it simple to make good nutrition a daily habit.
5 ways to use Salba Chia every day:
1. Sprinkled over morning breakfast cereals. Unlike flax, there's no need to grind chia seeds.
2. Blended into smoothies or pancakes: toss a serving of whole or ground Salba Chia seeds into favorite recipes.
3. As an egg replacement: Just add one tablespoon of whole grain Salba to a 1/4 cup of water, and stir.
4. As a flour replacement: Boost the nutritional value of baked recipes by replacing 1/6 of flour in any recipe with ground Salba.
5. To enhance dips, cookie recipes, soups, sandwiches or even ice cream: keep a shaker full of Salba Chia on the table to sprinkle Salba Chia seeds on snacks and meals.
Salba Smoothie
Ingredients:
1 cup water
1 cup apple juice
1 cup blueberries, frozen
1 cup mixed fruit, frozen
2 Tbsp. Salba® Whole Grain* seeds
Instructions
Place all ingredients into a blender adding Salba Whole Grain last. Blend until texture is smooth. Blending time is approximately 2 minutes or until the ingredients achieve the consistency of your preference.
*4 Tbsp. Salba Premium Ground Grain can be substituted.
Salba Chia BOOST is an individual serving of Salba Chia Premium Ground and Whole Seed that fits easily into a purse, wallet, sports bag or backpack for breakfast on-the-go. Individual Salba Chia BOOST packets (SRP $0.99), boxes of Salba Chia Premium Ground (10 Packets; SRP $9.90), and boxes of Salba Chia Whole Seed (14 packets; SRP $13.99) can be found at Whole Foods Market, natural foods stores, and online at http://www.amazon.com and http://www.salbasmart.com. For more recipe ideas, visit http://www.salbasmart.com/salba-recipes.
###
About Salba Smart LLC
Formed in 2006 by growers and manufacturers, Salba Smart's mission is to develop and market innovative food products rich in Omega-3 essential fatty acids (ALA) and nutrients that combine great taste and nutrition clinically proven to improve health. Salba Smart Natural Products, LLC is a privately held company headquartered at P.O Box 3009, Littleton, CO 80161. Tel: 303-999-3996. For more information, visit http://www.salbasmart.com or Facebook.