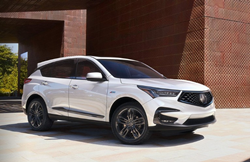 SALEM, Ore. (PRWEB) August 16, 2019
Acura of Salem is using its website to keep drivers in the loop when it comes to updates about the latest Acura models. The 2020 Acura models will be arriving at Acura of Salem soon, and there are many important features to learn about.
The Acura of Salem dealership offers two hubs of information for interested parties. The Acura of Salem blog offers the latest updates on new Acura models as well as local events that families may be interested in. These blogs offer information-packed and comprehensive articles about what is new on these Acura models as well as the kinds of specifications, features and amenities that come standard or are available in specific packages.
The other hub of information is the series of landing pages that can be found under the research tab of the Acura of Salem homepage. These web pages are designed to give as much information on the latest Acura models as they can as well as comparing these models to competitors. The information in these web pages is streamlined for readers' convenience. Car shoppers may also enjoy the multiple images throughout to help them see what the specific Acura models may look like. There are also several links therein to help drivers learn more information about vehicles that are inside the Acura of Salem showroom or will be arriving soon.
Interested parties can learn more about the 2020 Acura vehicles at Acura of Salem by visiting the dealership's website: http://www.acuraofsalem.com. If readers have any other questions about the vehicles available at Acura of Salem, they can call 888-229-9882 or visit the dealership at 2475 Commercial Street SE, Salem, Oregon 97302 today.