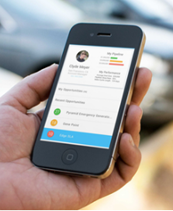 The new mobile-friendly cloud-based application makes it easy for salespeople to update accounts on the go.
Milwaukee Wisconsin (PRWEB) September 26, 2016
Respected sales improvement company, Selling to Zebras, announced the release of its sales enablement software as a cloud-based sales platform. This move marries the company's sales methodology and enterprise consulting expertise with the flexibility of cloud-based software.
"The SaaS subscription model improves access and affordability of our tools by eliminating a large upfront investment," says Jeff Koser, CEO of Selling to Zebras. "Instead of one large event, our customers can now affordably ramp up their sales teams and learn at a pace that allows more to succeed. Users can start to qualify their deals with Zebra Scoring immediately. It's that easy."
Selling to Zebras has a seventeen-year history of improving clients' sales revenue and growth. The configurable sales platform assists the sales rep through a best-practice sales approach that leverages the metrics the organization impacts. Over time, as the value proposition is refined, the starting point for future deals improves.
The software enables sales professionals to score opportunities, automates the production of sales materials and prioritizes deals that are likely to close. It also provides intelligent metrics and case studies relevant to the opportunity being pursued. The Selling to Zebras platform integrates with salesforce.com or can be used independently by small companies as a CRM alternative.
"Creating our own platform gives our users a better experience," says Brent Nauer, Director of Product Development. "Sales reps love the simplicity and the fact that they get the same experience on their phone or laptop with our responsive design. They don't have to be told to use it."
Selling to Zebras introduced the concepts behind its sales methodology in the award-winning book, Selling to Zebras, HOW TO CLOSE 90% of the BUSINESS YOU PURSUE FASTER, MORE EASILY and MORE PROFITABLY.
Licenses are available for $50 per user per month. More information is available at sellingtozebras.com.
About Selling to Zebras
Selling to Zebras is a global leader in sales process improvement. The company teaches sales professionals how to close 90% of business they pursue with greater ease, speed and profitability. The execution of their methodology is proven to help companies achieve exceptional sales improvement: 13% increase in average deal size, 21% faster sales cycles and 102% improvement in pipeline close rates. The Selling to Zebras solution includes the sales application as well as customizable materials, research services and training, made available through a network of independent consultants.