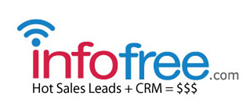 infofree.com is showing [salespeople] how to fully utilize those leads to get more sales.
(PRWEB) July 09, 2014
Infofree.com, the premier provider of sales leads, mailing lists and email lists, is helping small businesses owners and sales people increase their sales and grow their businesses with free daily webinars.
Small business owners and sales people must learn to take full advantage of the sales leads to which they have access. Infofree.com's online webinars provide sales tips to help them efficiently generate relevant, quality leads, and turn those leads into customers.
Infofree.com's webinars are mediated by experienced sales professionals. Attendees have the opportunity to learn about:

Finding business sales leads (Mondays)
Homeowners and new businesses (Tuesdays)
Business credit reports and background/criminal searches (Wednesdays)
Effectively managing sales leads (Thursdays)
Email marketing (Fridays)
"Small businesses and sales people already have access to hot leads," said infofree.com Founder, Vin Gupta. "Through these daily webinars infofree.com is showing them how to fully utilize those leads to get more sales."
Infofree.com's daily webinars are designed to give sales tips to small business owners and sales people. The webinars are free to the public and take place weekdays at 2 p.m. EST. To register, go online to https://infofree.webex.com.
Infofree.com is a subscription-based service providing sales leads, email lists, mailing lists, background/criminal searches, business credit reports and a free contact manager. To grow sales go to http://www.infofree.com.
About Us
Infofree.com™ is revolutionizing the sales lead and mailing list industry by providing unlimited search, select and view of over 15 million business records, 250 million consumers and hundreds of other specialty databases for the low, flat price of only $59.95 per month or $599.50 per year. Reach new homeowners, new movers, newlyweds, new businesses and much more!